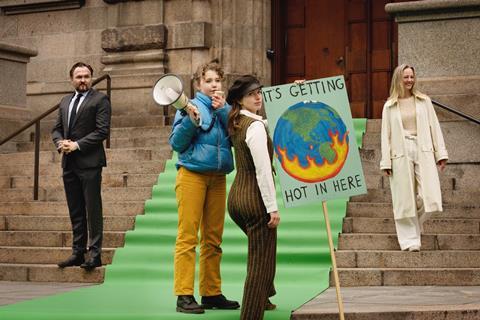 Phie Ambo's climate change documentary 70/30 has been set as the opening film of the 2021 Copenhagen International Documentary Film Festival (CPH:DOX).
The 18th edition of CPH:DOX is set to take place as a hybrid edition from April 21 to May 2, and its opening feature will be live streamed via the festival's own platform.
Directed by Danish filmmaker Ambo, the documentary follows Danish Minister of Climate, Energy and Utilities, Dan Jørgensen, and young environmentalists as they fight for a more sustainable world and desperately try to get their message across to politicians.
The film will screen in the festival's main competition, DOX:AWARD, and is produced by Malene Flindt Pedersen for Copenhagen-based Hansen and Pedersen.
Ambo's credits include Gambler, about director Nicolas Winding Refn's struggles to continue making films after going financially bankrupt in 2003, and has turned her lens on environmental issues in recent years with 2014's Good Things Await and 2019's Rediscovery, both of which screened at CPH:DOX.
Explaining its selection, outgoing CPH:DOX CEO Tine Fischer said the festival hoped to "reinvigorate the debate about climate change" with its opening film.
"We have an ambition at CPH:DOX to pass the mic to directors with important and urgent agendas, films that have the potential to challenge opinions and become catalysts for social and political change," she said. "Phie Ambo's film 70/30 has a clear vision to show the drive of civil society and the elected representatives despite resistance and discouragement along the way."
Fischer, who founded CPH:DOX in 2003, will step down after this year's edition to become the director of the National Film School of Denmark.
This year's edition has moved into April from its original dates of March 17-28, as a result of Covid-19 restrictions in Denmark. The decision has been made to provide a better chance of staging physical events and screenings in theatres, while plans continue for a digital programme that will be available to Danish audiences.