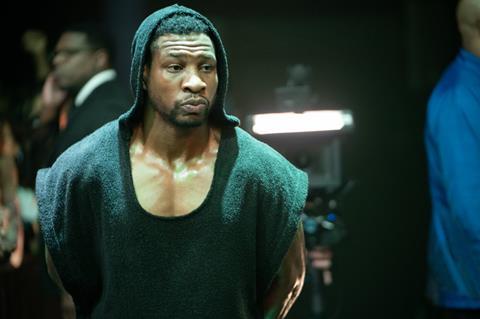 World box office March 3-5
| Rank | Film (distributor) | 3-day (world) | Cume (world) | 3-day (int'l) | Cume (int'l) | Territories |
| --- | --- | --- | --- | --- | --- | --- |
| 1. | Creed III (Warner Bros) | $100.5m | $100.5m | $41.8m | $41.8m | 76 |
| 2. | Ant-Man And The Wasp: Quantumania (Disney) | $34.4m | $419.4m | $22m | $232.7m | 53 |
| 3. | Cocaine Bear (Universal) | $14.1m | $52m | $3.1m | $10.7m | 52 |
| 4. | Demon Slayer: Kimetsu No Yaiba – To The Swordsmith Village (Sony) | $12.3m | $12.3m | $2.1m | $2.1m | 9 |
| 5. | Avatar: The Way Of Water (Disney) | $9.6m | $2.2bn | $6.1m | $1.6bn | 53 |
| 6. | Jesus Revolution (Lionsgate) | $8.6m | $30.5m | - | - | 1 |
| 7. | Puss In Boots: The Last Wish (Universal) | $7.4m | $453.5m | $4.7m | $276.4m | 81 |
| 8. | Cyber Heist (various) | $6m | $6.1m | $6m | $6.1m | 4 |
| 9. | A Guilty Conscious (various) | $5.4m | $30.9m | $5.4m | $30.9m | 7 |
| 10. | Mummies (Warner Bros) | $4.8m | $27.8m | $4.8m | $27.8 | 56 |
Credit: Comscore. All figures are estimates.
'Creed' posts franchise record debut
UPDATED: Creed is proving a rare film franchise that is growing with each instalment – at least for the three titles released so far. Creed III has debuted with a confirmed $43.1m from 75 international markets (via Warner Bros), which combines with the North American $58.5m opening (via United Artists Releasing) to deliver a global tally of $101.6m.
The opening numbers set Creed records for both international and North America.
In like-for-like international markets and using today's exchange rates, Creed III is tracking 109% ahead of Creed and 25% above Creed II. Adjusting to use exchange rates at the time of release, Creed III still tracks ahead of both films: 93% ahead of Creed and 18% above Creed II.
Confirmed numbers show France ended the weekend as the top international territory with $7.8m for Creed III – knocking local hit Alibi.com 2 off the top spot. UK and Ireland comes next, with a chart-topping $6.0m, and capturing a 54% share of the market.
Germany delivered the third-biggest international opening with $4.4m – more than double the debuts of both Creed and Creed II. Italy ($3.5m) and Mexico ($3.1m) round out the top five international territories.
The first Creed, which was a franchise extension of Rocky, and was directed and co-written by Ryan Coogler, grossed $173.6m worldwide in 2015.
Sequel Creed II, directed by Steven Caple Jr, built on that success, grossing $214.2m worldwide. The first two instalments both featured Sylvester Stallone as Rocky Balboa mentoring Adonis Creed (Michael B Jordan), the son of his former rival.
Creed III has evidently engaged audiences by offering something different: no more Rocky, and this time Adonis Creed coming to a reckoning with his past as a former friend (Jonathan Majors) becomes an adversary. Jordan makes his directing debut, from a screenplay by Keenan Coogler (brother of Ryan) and Zach Baylin, based on a story by the writer pair with Ryan Coogler, who also serves as one of the producers.
Creed III looks certain to exceed the lifetime grosses of the earlier two Creed films. Japan releases on May 26.
'Quantumania' sees box office shrink
Disney's Ant-Man And The Wasp: Quantumania continues its box office slide – especially in North America, where it eroded another 61% at the weekend. For international, the drop was a gentler 53%.
This third Ant-Man film grossed an estimated $12.5m in North America at the weekend, taking the total there to $186.8m. For international, the weekend box office was an estimated $22.0m, and the total is $232.7m. Global tally is $419.5m to date.
Quantumania began with a scorching global debut of $225.3m, setting a franchise record, but the latest weekend (the film's third) saw only 15% of that box office number.
Quantumania still needs to gross another $100m to match the global gross of the first Ant-Man film ($519.3m) from 2015. Sequel Ant-Man And The Wasp grossed $622.7m in 2018. Those earlier films had the benefit of release in Russia, and China was also performing differently for US studio films at the time of those releases. For example, Ant-Man And The Wasp grossed $121.2m in China, whereas Quantumania has so far managed $36.9m and will not match the heights of its predecessor.
Also for Disney, Avatar: The Way Of Water added another estimated $9.7m at the weekend, taking the global total to $2.282bn. The film remains the third-biggest of all time at the worldwide box office, behind Avatar ($2.924bn) and Avengers: Endgame ($2.799bn).
'Cocaine Bear' pushes past $50m globally
UPDATED: With a production budget in the $30-35m range, Universal's comedy thriller Cocaine Bear looks on course for a profitable outcome. The tale of drug-fuelled ursine rage passed the $50m box office barrier on Sunday, with many key international markets – including France, Germany, Italy, Spain, Mexico and Brazil – set to release.
In North America, confirmed weekend takings of $11.m represent a 52% drop on the opening session. For international, confirmed weekend takings of $3.3m see a 37% drop in holdover markets. Worldwide tally is now $52.3m.
Among international territories, UK/Ireland ($4.4m cumulative total) leads, ahead of Australia ($1.9m). Other international markets so far released are relatively minor.
Next key markets to open the film are France and Mexico, on March 15 and 16 respectively.
'Demon Slayer' film begins rollout outside Japan
Japanese anime Demon Slayer: Kimetsu No Yaiba – To The Swordsmith Village has begun its rollout outside its home nation. For North America, the release by Crunchyroll delivered an estimated $10.2m. Eight early international markets (not including Japan), distributed variously by Sony Pictures International Releasing and Crunchyroll, added another $2.1m, taking the weekend total to $12.3m.
UK/Ireland (for Sony) led the select international pack with an estimated $663,000, ahead of Australia (for Crunchyroll) with $500,000.
The film is from the same universe as Demon Slayer The Movie: Mugen Train, which grossed $453m worldwide since its release in Japan in October 2020.
However, that was a wholly original anime film, whereas Kimetsu No Yaiba – To The Swordsmith Village is assembled from three TV episodes (including an extended cut of one yet to air).
Comscore's worldwide chart omits Japan from its figures. According to other sources, the film had grossed $23.6m in Japan after four weekends of play, following a February 4 release via Aniplex.
Upcoming key markets are Germany (March 7), Mexico and Netherlands (both March 9).