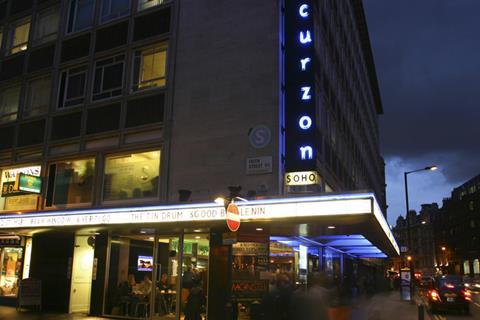 UK cinema chain Curzon is planning to build more venues and carry out refurbishments at key sites in the next two years after achieving box office growth of 15% across the circuit in 2017.
Independent stalwart Curzon mapped out the plans last night [Jan 23] to a select group of industry at the formal launch of new venue Curzon Oxford.
As part of the strategy, Curzon will press ahead with a significant refurbishment of flagship London venue Curzon Soho despite the threat of its potential closure due to Crossrail 2. Curzon told Screen that it is "moving on with business as usual after not hearing from TFL for many months".
The Soho venue will get an upgrade to the ground floor cafe and new seats, carpets and paint work in the auditoria. There will also be refurbs at Mayfair and south of Manchester venue Knutsford while the latter will also get two more screens from this summer.
In 2018 there will be cinema openings in Colchester and Hoxton and construction will begin on a planned four-screen site in Kingston which is due to open in 2019.
Curzon is currently building the three screen cinema on Queen Street in Colchester. Designed by the Afroditi Krassa design studio, the cinema will take over three floors of Roman House and will include a ground floor cafe and a bar area with a balcony on the second floor.
The Hoxton site in Pitfield Street, Shoreditch, is due to open in late autumn. Casper Mueller Kneer Architects have designed the three screen cinema with bar, cafe and restaurant. Meanwhile, Curzon Mayfair's Screen Two will get a significant refurbishment in early summer.
In 2019 Curzon is due to open the four-screen venue within the Bentall Centre, Kingston. Construction is due to begin in summer 2018 on the four screen cinema which will feature a rooftop terrace bar and restaurant.
2017 openings for the company, which currently comprises 12 UK venues, included Curzon Oxford, which has five screens, bar and lounge, and Curzon Aldgate.
Curzon CEO, Philip Knatchbull said: "2017 was a fantastic year for Curzon, we saw a box office increase of 15% across the circuit - significantly ahead of the UK industry growth of 3.6%. We're extremely proud with the finish we've been able to achieve with the builds at Curzon Oxford and Curzon Aldgate and will replicate that standard with the new venues and refurbishments. The year ahead is an exciting one for the company and we look forward to bringing our unique and distinctive approach to cinema to ever more people."
Yesterday, Screen revealed that Curzon would be folding home entertainment subsidiary Fusion Media Sales into its main distribution label Artificial Eye due to market challenges. Last week the company announced the international roll-out, starting in the UK, of SVoD service FilmStruck with Turner and Warner Bros.