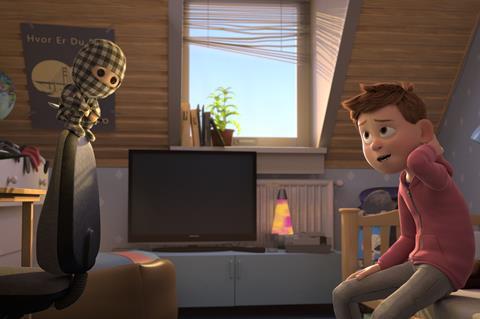 Anders Matthesen and Thorbjørn Christoffersen's Checkered Ninja, which has taken the Danish box office by storm, will be one of eight features showcased in the Annecy Festival's new-look Features competition section for animated films later this year (June 10-15).
The Features line-up also includes three titles from Japan – Masaaki Yuasa's Ride Your Wave, Yuhei Sakuragi's The Relative Worlds and Keiichi Hara's The Wonderland.
Annecy has also introduced a parallel competition called Contrechamp, 'for the most unique feature films, as well as those that create more challenges vis-à-vis the audience', said the festival.
The eight animated films in the section include Sung-yoon Oh and Chun-baek Lee's Underdog, which opened the prestigious Bucheon International Fantastic Film Festival in 2018.
Features
Buñuel in the Labyrinth of Turtles, Salvador Simo – Spain, Netherlands
Marona's Fantastic Tale, Anca Damian – Belgium, France, Romania
Checkered Ninja, Anders Matthesen, Thorbjørn Christoffersen – Denmark
Ride Your Wave, Masaaki Yuasa – Japan
The Bears Famous Invasion, Lorenzo Mattotti – France, Italy
The Relative Worlds, Yuhei Sakuragi – Japan
The Wonderland, Keiichi Hara – Japan
White Snake, Kahong Wong, Ji Zhao – China
Contrechamp
Away, Gints Zilbalodis – Latvia
Children of the Sea, Ayumu Watanabe – Japan
Day of the Dead, Carlos Gutiérrez – Mexico
Homeless, José Ignacio, Navarro Cox, Jorge Campusano, Santiago O'Ryan – Chile
Kung Food, Haipeng Sun – China
Underdog, Sung-yoon Oh, Chun-baek Lee – South Korea
Ville Neuve, Félix Dufour-Laperrière – Canada
Zero Impunity, Nicolas Blies, Stéphane Hueber-Blies, Denis Lambert – France, Luxembourg