Danish director Jesper W Nielsen started the shoot yesterday for thriller The Exception, with a cast featuring Sidse Babett Knudsen (Borgen, Westworld), Danica Curcic (Silent Heart), Amanda Collin (A Horrible Woman), and Lene Maria Christensen (Terribly Happy).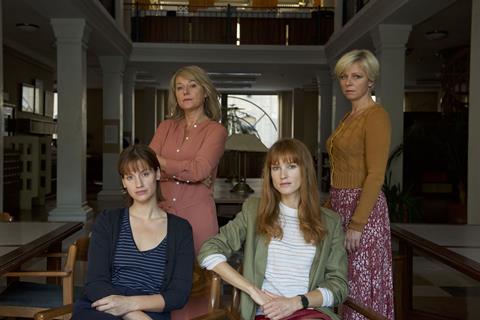 As the film starts production, Swedish actor Magnus Krepper (Becoming Astrid) and Danish actor Olaf Johannessen (The Killing) have joined the cast.
LevelK is handling international sales for the film and will be discussing with buyers at Toronto.
The Exception is adapted by Christian Torpe from the 2004 bestselling novel by Danish author Christian Jungersen.
The story follows two young women working at an NGO in Copenhagen fighting genocide and crimes against humanity; they start receiving death threats that might be from a Serbian war criminal.
The Exception is shooting in Budapest until Sept 13 and will finish production in Aarhus, Denmark on Oct 11. SF Film will release locally in autumn 2019.
Marcella Dicmann, Mille Bjørke and Miriam Nørgaard produce for Fridthjof Film, with Ronnie Fridhjof as executive producer.
The film is financed by The Danish Film Institute, DR, West Danish Film Fund, Creative Europe Media, and Nordisk Film & TV Fond.
SF and Fridthjof Film sign output deal

The Exception marks the first film in a new three-year output deal for Nordic distributor SF Studios and Fridthjof Film.
Ronnie Fridthjof, head of Fridthjof Film, said: "We want to continue to hone the quality of our films and draw in even larger audiences. We have a close personal relationship with many of the employees at SF Studios and are eagerly looking forward to working together. SF Studios with its team, its many years of experience and its strong tradition in the Nordic countries is the perfect partner for Fridthjof Film".
Yaba Holst, the new Head of Nordic Acquisition at SF Studios, added: "Fridthjof Film has repeatedly demonstrated its excellent feel for what works with audiences. They are a strong outfit and have a bold approach that guarantees quality in all genres. It's exactly what we need at SF Studios and it matches our vision and mission to become the public's top choice. We have a powerful team in Denmark, and I'm proud that we once again have managed to land one of the main players in the industry."
SF Studios already has distribution agreements with three other Danish production companies: Meta Film, Miso Film and Creative Alliance.