Chariots of Fire producer reveals how Greenpeace activists brought him back to filmmaking.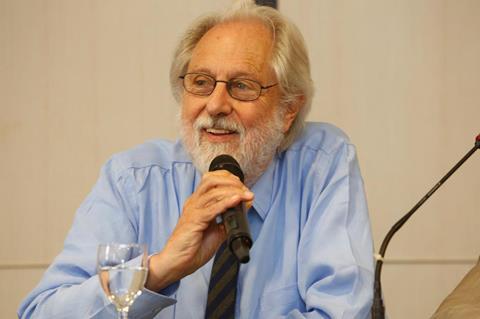 When David Puttnam stepped back from filmmaking in his mid-50s, he cited the examples of some of the legendary filmmakers he had met while boss of Columbia Pictures - directors like Stanley Kramer, John Huston, Fred Zinnemann and George Stevens who felt embittered at their loss of influence late in their careers.
"What I realised…is what angry men they were. When I made the decision to be out [of the film business] at 55, it was because I realised that the last 15 years of their lives, they were not happy guys," the Chariots Of Fire producer said in a 2008 interview.
Now, aged 74, Lord Puttnam is taking the plunge back into production.
Two weeks ago, at Cannes,he announced his plans to make a feature film version of Don't Trust Don't Fear Don't Beg The Extraordinary Story of the Arctic 30, the book by Ben Stewart (head of media at Greenpeace) about the experiences of Greenpeace activists protesting against oil drilling in the Arctic.
These activists were arrested, charged with piracy and faced the terrifying prospect of up to 15 years in Russian jails.
Stewart freely acknowledges that he "didn't think for a moment" that his book would be made into a film. However, when he started getting calls from film companies, a friend sent the book to Puttnam in the hope he would give Stewart some advice. In the event, Puttnam called Stewart.
"He (Puttnam) said I get sent something every day or every week, people trying to coax me out of retirement but this is a fine piece of work and I would like to meet you."
Gradually, it became clear that Puttnam didn't just want to offer Stewart advice but to produce alongside business partner, Le Pacte co-owner Hani Farsi of Corniche Pictures.
Emma Thompson's involvement
Emma Thompson played a key role in persuading Puttnam to take on the project.
"She (Thompson) couldn't have been better. I wouldn't have been at this point, Hani wouldn't have been at this point without her urging," said Lord Puttnam.
"She has been fantastic. I update her about once week. Initially, we talked about her writing the whole thing. When you read the book, you see that the first 20 minutes is more like Saving Private Ryan than anything Emma would ever do. She was very nervous of writing that sort of action sequence.
"We then talked about how she could work with somebody…I tell her every week who we have been looking at. She comes back with her thoughts. At some point, we will evolve into a writing team and I'd be really sad and sorry if it didn't involve her."
Thompson herself has spent time on a Greenpeace ship and was already passionate about the issues in Stewart's book.
"I would hate her to feel that we were in any way bouncing her into it (the film) but the truth is we wouldn't have reached this point without her," said Puttnam.
Finance challenge
The challenge now is to package up the film and get it financed. Farsi is optimistic this will prove straightforward.
"He (Puttnam) is one of my heroes. The man is a legend," said Farsi.
"He is also one of the few people who have walked away with both a Palme d'Or and an Oscar - so for him to return is big news.
"Also, more importantly, his returning with this story is big news. As I was telling David, if you look at his body of work, this could have been right after The Killing Fields or The Mission. It has the same DNA."
Arctic character
Puttnam suggests that the Arctic 30 movie will be "a mid-price" picture.
"The first 15 to 20 minutes are going to be expensive," he predicts. "After that, it is much more like Midnight Express. It is much more internal. It is a people picture. It's a film about relationships, courage and fear. It is not a special effects movie."
Nor does Puttnam believe the film should be made by "an auteur" overly concerned with his or her reputation.
"It needs someone to crack one essential problem, which is how you turn the Arctic into a character. That is a very interesting creative challenge," he said. "Beyond that, this is storytelling, absolutely storytelling - great performances and storytelling."
Agent of change
Ask Puttnam if he still believes in cinema's power as an agent of social change and his response in unequivocal.
"I absolutely believe it," the veteran producer declared. "If I didn't, then I have totally wasted the last 30 years of my life.
"All the classes I do, every course I do is all about the importance of film and the ability of film to change society…it's not just a yes answer. If that isn't true, then my fucking life has been wasted."
Avoiding "boring propaganda"
The team members make it clear that they're planning a dramatic movie, not giving a lecture on climate change.
"I don't think we want to make a piece of boring propaganda that goes through the science of climate change," said Greenpeace's Stewart.
"That is not what this is about but the Arctic is where climate change is being felt most acutely. You can tell the whole story of climate change through the Arctic.
"If these guys can find a way to make the Arctic one of the stars of this film, I think it will be a profoundly important film."
Release in 2017
Puttnam is hoping to have the film ready to open for "the fall of 2017" and he is working back from this date. "That tells me when we need a screenplay, when we need to book time for studio space and all those things," he said.
Social media activity is bound to play an important role in the marketing of the film.
As Stewart explained: "2.5 million people signed up to the campaign to get them (the Arctic 30) out (of jail) and we've still got their email addresses. I am sure they would be pretty keen to be contacted and encouraged to go to watch a film of a story in which they were an integral part."
"You're not trying to flog something from scratch that no-one's ever heard of," added Puttnam.
"I reckon you could open the next Harry Potter film without spending a penny on advertising because of what it is. We've got something not dissimilar in terms of a pre-sold story."
Busy schedule
Puttnam remains as busy as ever as teacher, crusading politician and industry spokesperson (for example, in his role as President of The Film Distributors' Association).
He doesn't envisage the new film will get in the way of his other activities. "Maybe I have a slightly over-structured existence," he reflected.
"I plan…it's much less difficult than it must appear from the outside. People say how do you juggle it? I don't juggle it. I know what I am doing next week and the week after and the week after and the week after that."
He acknowledges that the film business "does not treat elderly people with enormous respect."
When he was in his mid-50s, he was losing some of the "excitement" he felt about cinema and he was also very conscious of not becoming one of those old-timers, desperately trying to get one last movie off the ground. Therefore, when the opportunity came to go into the House of Lords and to work for the Department of Education, he took it.
"I did absolutely turn scripts down every week, every single week. This is my biggest embarrassment," he recalled.
"Someone is going to dig out letters saying, hang on, you're never going to (produce again)…but I never read anything which rang a whole series of bells.
"The big bell was that (after all) those years I spent on the climate change bill, all those ridiculous speeches in the House of Lords that nobody ever listened to, I could do something."
Now, the search is on for a director and actors for what look likely to be some plum roles.
"The most important thing your article could do for us really is flush out of the woodwork someone who shares our passion," Puttnam states.
"We're looking for someone who cares as much about this story as us and who is not going to say 'talk to my agent'. The moment someone does that, they shouldn't do this film, absolutely shouldn't - in fact, they're barred!"