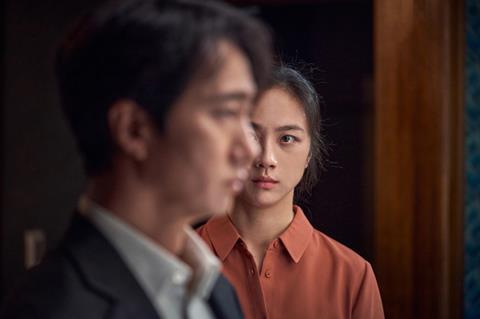 Park Chan-wook's Decision To Leave has been selected as South Korea's entry for best international feature film at the Academy Awards.
The romantic thriller premiered in Competition at Cannes in May, where Park won best director. The decision to enter it into the Oscar race was announced by the Korean Film Council (KOFIC) today.
It stars Park Hae-il (The Host) as detective in charge of an investigation after a man falls to his death from a mountain peak and develops an interest in a key suspect – the dead man's wife, played by Chinese actress Tang Wei (Lust, Caution).
"It was encouraging to see a variety of titles with different artistic values," said a KOFIC statement of the selection process.
"However, due to the nature of the Academy Awards, in addition to artistry, director's recognition, directing, possibility of box office success in the North American market and promotion ability of overseas distributor were taken into consideration. From this point of view, we agreed that the Decision To Leave was the most appropriate choice and we expect it to be well received."
The feature was pre-sold to 192 regions by CJ ENM – close to the highest sales in Korean film history held by Bong Joon Ho's Palme d'Or winner Parasite, also handled by CJ. Parasite went on to become the first Korean film to win in the Oscars foreign-language category in 2020.
Decision To Leave will receive its North America premiere at Toronto in September, in the special presentations strand, and will go on to play the New York Film Festival in October. Mubi has distribution rights for the UK and North America, where a release is set for October 14 in both territories.
It was released in Korea and France on June 29, taking $14m and $1.9m to date respectively.
Decision To Leave marked the fourth Cannes appearance for Korean director Park, after 2003 Grand Prix winner Oldboy, Thirst in 2009, and The Handmaiden in 2016. It also topped Screen's Cannes jury grid, which was previously led by Oscar winners Parasite in 2019 and Ryusuke Hamaguchi's Drive My Car in 2021.