EXCLUSIVE: Drama set in the aftermath of Egyptian revolution takes top slot at home box office; film gets Tom Hanks endorsement.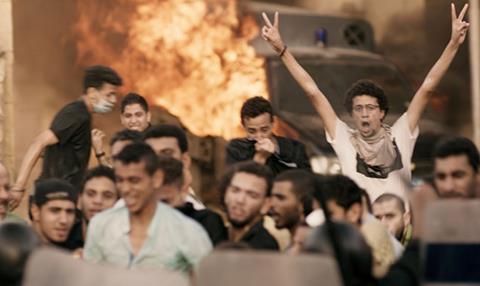 Egyptian director Mohamed Diab's hard-hitting post-revolution drama Clash is proving a hit at home and abroad following its premiere as the opening film of Cannes Un Certain Regard in May.
Set against the backdrop of riots in Cairo at the end of Islamist President Mohamed Morsi's reign in 2013, its snapshot of Egypt's divided post-revolution society has struck a chord with local audiences.
Cairo-based distribution and film promotion company MAD Solutions reports the title grossed a record-breaking $225,000 (LE2m) during its first week on release in Egypt, beginning July 27. The film easily outperformed a number of Hollywood blockbusters.
"The film started in 36 screens and we added 11 screens on the second day to meet demand, " commented MAD Solutions co-chief Alaa Karkouti.
The release was expanded to 52 screens across Egypt for the second week.
"One multiplex opened four screens with a total of 500 seats for one show and had a full house," added Karkouti.
He added another multiplex achieved a day record of $11,200 (LE100,000) with the film while another registered takings of $33,000 (LE300,000) in the first week.
Results like these are exceptional for an independent production and would even be regarded as strong for a blockbuster in Egypt.
Clash follows the fate of 25 people, from different walks of Egyptian life, who are arrested during the violent demonstrations in Cairo in July 2013 and then held in the same claustrophobic police van over a 24-hour period.
Its ensemble Egyptian cast includes Nelly Karim, Tarek Abd El Aziz, Hany Adel, Ahmed Malek, Ashraf Hamdi, Mohamed Abdel Azim and Gamil Barsoum.
Tom Hanks letter, tweet
Diab spent four years developing and then shooting and completing the film, following his critically acclaimed debut 678, which explored sexual harassment in Egypt.
Speaking to Screen at Cannes, the director said that his aim had been to explore Egypt's divided post-revolution society in a non-judgemental, humanising way.
The film is also making waves internationally. Beyond favourable reviews at Cannes, Hollywood actor Tom Hanks recently publicly endorsed the film on his social media accounts.
He also wrote to Diab to offer praise for the work.
"Your film Clash will go to great lengths to enlighten many. Audiences will see that humanity is a fragile community, but we are all in 'this' together," he told the director in a letter Diab posted on his Facebook page.
The film – which has sold well internationally – will begin its international release schedule this autumn.
Paris-based Pyramide Films will kick-off its European career with a September 14 release in France.
Clash is an international co-production involving Cairo-based Film Clinic, Paris-based Sampek Productions and Emirati Acamedia Global in association with ARTE France Cinema, Germany's Niko Film, Dubai-based Fortress Film Clinic and Pyramide International in France.
Pyramide International handles world sales.