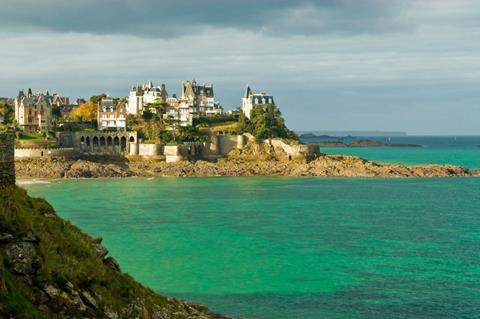 Dinard Festival of British Film has set the programme and jury for its 32nd edition, which will take place from September 29 to October 3 both in-person in northern France and online.
Following the cancellation of the 2020 edition due to the pandemic, the festival returns with six new thematic strands, all exhibiting different aspects of UK and Irish film.
'Dinard Rocks The Casbah' presents four features exploring different musical genres – reggae, punk, britpop and techno. 'Irish Eyes In Dinard' includes five recent Irish features including Phyllida Lloyd's Herself, while 'It's Teen Spirit' focuses on adolescence, with titles including Brian Welsh's Beats.
The three remaining strands are 'Land & Sea', about the struggles of men and women to defend their traditional ways of life; 'To Be Or Not To Be', for films that explore universalities of the human condition; and 'Quelle Horreur!', presenting four recent horror titles from women directors.
Each strand has its own 'godmother' or 'godfather' who acts as a mentor to the selection, including producers Elizabeth Karlsen for 'To Be Or Not To Be', and Celine Haddad for 'Irish Eyes In Dinard'.
The new sections have seen an expansion in the size of the festival programme, from 25 features in 2019 to 43 this year.
In the competition, six UK titles will compete for prizes including the Golden Hitchcock, the Hitchcock for best performance, and an audience award. The six selected films are Nick Moran's Creation Stories; Ben Sharrock's Limbo; Martyn Robertson's Ride The Wave; Marley Morrison's Sweetheart; Corinna Faith's The Power; and Cathy Brady's Wildfire. The competition films will also play across the thematic sections.
French actor Berenice Bejo will be president of the jury, with UK producer Paul Webster the sole confirmed juror following the premiere of his latest film, Pablo Larrain's Spencer, in Venice.
Special screenings at the event include Edgar Wright's Last Night In Soho, one month before its release in French cinemas on October 27 and in the UK and US on October 29.
The festival will also present a retrospective of the work of UK filmmaker Joanna Hogg, including both parts of The Souvenir.
Despite ongoing travel challenges, the festival hopes the teams behind the selected films will be able to come to Dinard from the UK. All those attending will be required to hold a 'pass sanitaire' to be admitted to indoor venues including cinemas and restaurants.
For the first time, tickets for in-person screenings will only be available in advance from the festival's main Palais des Arts et du Festival venue or online; no tickets will be available on the door.
The event will also run online via the festival website for viewers in France only.