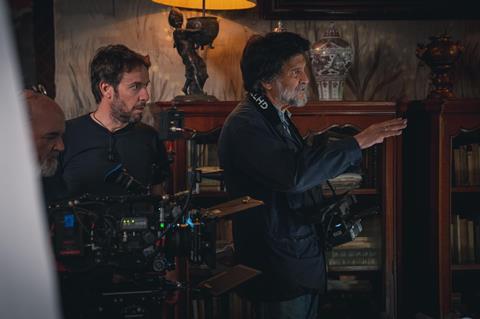 Spanish director Victor Erice, whose film Close Your Eyes is screening in Cannes Premiere, has published an open letter in Spain's El País newspaper explaining that he is not in Cannes personally as he is disappointed by the decision of delegate general Thierry Fremaux to not programme the film in the main Competition.
Erice said he wanted to put the record straight after reading a report in El Pais that the film was not selected for Competition because it was not ready in time.
Instead, Erice said he and his team sent a final cut of Close Your Eyes to the Cannes selection committee on March 24, pending colour correction and mixing. It was "a work in progress often used by producers in these circumstances and accepted by festivals' selecting committees," wrote Erice.
The Spanish filmmaker added: "It's not true to assert or insinuate that the committee could not see it finished until a few days ago, justifying it as the reason why it was not included in Competition. One may wonder that if the film was finished to be included in Cannes Premiere why was it then not ready to premiere in Competition?"
The revered The Spirit Of The Beehive director, for whom Close Your Eyes is his first feature in 30 years, continued: "And that is not all. Between March and April, awaiting a decision by the Official Selection committee," he wrote, he received an offer for Close Your Eyes to open Directors' Fortnight with Close Your Eyes. "An event that in previous editions has been given to consecrated directors like Francis Ford Coppola. I wrote to Thierry Frémaux straight away to ask that, in the event that Close Your Eyes was not selected, if he could please tell me in time (something that is often done) in order to consider other options available for the film. In Cannes (Directors' Fortnight), or outside Cannes (Locarno, Venice). But in all this time, Frémaux never replied."
Erice wrote in El Pais that he found out where his film would be screening in Cannes "in the official press conference of the 13th of April". He said this is not a "protest" for not being selected in Competition, "nothing further in my intentions". Rather, he is upset by how things were handled. "At the time of deciding the international premiere of Close Your Eyes, between two people like Thierry Frémaux and myself (director and co-producer of this film) who have known each other for a good while, the most natural thing would have been to talk and discuss. In other words, mutual consideration. This is, precisely, what I have missed in his relationship with me. I was not expecting to be granted a favour nor privilege, but to be offered the chance to consider and chose other alternatives that Close Your Eyes had."
Close Your Eyes is Erice's fourth feature following Dream Of Light, The Spirit Of The Beehive and El Sur, and stars Manolo Solo and José Coronado, It is the story of a famous Spanish actor who disappears while filming a movie. It reunites Erice with star Ana Torrent 50 years after The Spirit Of The Beehive. It is co-produced by Tandem Films, Pecado Films, Nautilius Films and Pampa Films.
When contacted by Screen for comment, a spokesperson for the festival said: "The selection of Victor Erice's film Close Your Eyes took place under the usual conditions of the selection process. The director was notified of the invitation of his film in Official Selection on April 12. From the beginning, the dialogue was ongoing between Thierry Frémaux and Christian Jeune and with the Spanish producer and the French distributor, and Thierry Frémaux also spoke directly to Victor Erice.
"The Festival de Cannes is surprised by the current comments made about the selection of the film because we are above all proud and happy to have welcomed Victor Erice's Close Your Eyes to our 76th edition."