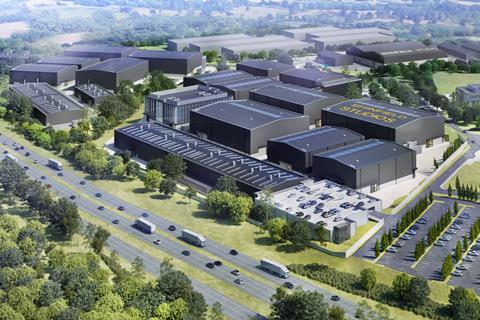 Full planning permission has been granted to Shinfield Studios to continue construction of its studio facility, located in Shinfield, Berkshire, in Thames Valley Science Park, with Disney named as the first client.
The 85,000 square metre facility will include 18 sound stages and is expected to generate a total inward investment to the UK economy of approximately £600m each year. It will be one of the largest film and TV studios in the UK.
In March, Shinfield Studios was granted temporary planning consent from Wokingham Borough Council for four sound stages and four workshops. In October, Wokingham Borough Council granted full planning permission for a facility with 18 sound stages, however, owing to the scale of the development, the final approval was deferred to secretary of state for levelling up, housing and communities, Michael Gove.
Gove has now given the project go-ahead. Four sound stages have already been built and are ready for operation, with a Disney production confirmed to start in 2022. A further nine are due to open in 2023, with completion of the entire facility expected by the end of 2024.
It will also include workshops, a contemporary office environment and a post-production/screening facility. The site will not use any natural gas and will use solar panels, with a focus on sustainable production. Through the integration of low and zero carbon technologies a typical reduction of 20% carbon emissions will be achievable.
The studio will be operated by Blackhall Global Partners. The US company also owns a nine-stage facility in Atlanta and is developing a 19-stage facility in Los Angeles, set to open in 2025.