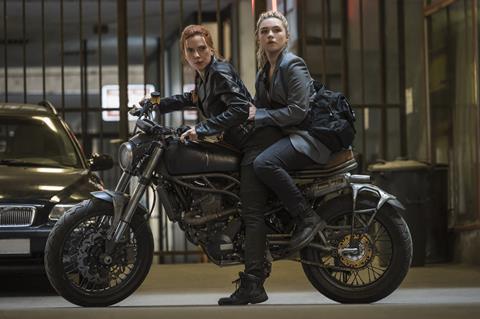 Against the backdrop of Scarlett Johansson's Black Widow lawsuit Disney CEO Bob Chapek said talent deals on film releases had "by and large" gone smoothly as he reported a buoyant third quarter that saw Disney+ global subscribers double in the past year to reach 116m.
Referring to the studio's myriad approach to film distribution – which includes hybrid theatrical and digital releases on Black Widow, Jungle Cruise and Cruella, straight-to-service launches like Pixar's Luca, and exclusive theatrical releases such as Friday's (August 13) release of Free Guy – Chapek stressed flexibility was key.
"We've figured out ways to fairly compensate our talent so no matter what the business model is we have to go to market with, everybody feels satisfied," he said, adding: "Since Covid has begun we've entered into hundreds of talent arrangements with our talent and by and large they've gone very, very smoothly.
"We're trying to do the best thing for all our constituents and make sure that everybody who's in the value chain feels like they're having their contractual commitments honoured from a distribution and compensation standpoint."
Johansson is suing Disney and claims it interfered with her contract with Marvel Studios and induced breach of contract by releasing Black Widow in cinemas and on Disney+ Premier Access on the same day, rather than opening the tentpole exclusively in cinemas as the A-List star believed the studio would do. Black Widow did not get a mention in the earnings call as it opened in the company's fourth quarter.
Reporting the quarter, Chapek noted Disney+ global subscription levels had doubled in the past year from 57.5m a year ago. Diluted earnings per share for the quarter ending July 3, 2021, was 80c compared to 8c in the year-ago quarter ending June 27, 2020. Company revenues hit $17bn following a 45% rise over $11.8bn from the year-ago quarter as theme parks, cruise ship activity and theatrical distribution have returned albeit at restricted capacity.
Analysts had forecast Disney+ subscribers to reach 115.2m and company revenue and earnings per share to hit $16.8bn and 55c, respectively. Disney stock increased 10% in after-market trading.
Direct-to-consumer revenues gain 57% year-on-year
Direct-to-consumer revenues for the quarter reached $4.3bn after increasing by 57% from $2.7bn in the third quarter of 2020. Disney+ added 12.4m members in the quarter (from 103.6m in the second quarter) and the total number of global subscribers stands at 174m (Netflix is around 206m) although Hulu and ESPN+ are only operational in the US at this point.
The division's operating loss dropped from $600m to $300m. Hulu subscribers increased by 21% in the past year from 35.5m to 42.8m, driven mostly by additional streaming subscribers that swelled 22% from 32.1m to 39.1m. Subscribers to the Live TV and streaming package grew 9% from 3.4m to 3.7m.
Disney+, currently available as a limited service in Japan, will expand to the full market in late October, followed by launches in South Korea, Taiwan and Hong Kong in mid-November. The Eastern European launch has been pushed back from late 2021 to summer 2022 to include expansion into parts of Middle East and South Africa.
Content sales/licensing and other revenues for the quarter fell by 23% to $1.7bn and operating income dropped by 58% to $132m, which Disney said was due to lower home entertainment and theatrical distribution revenue.
Production delays and fewer theatrical releases due to the pandemic resulted in fewer home entertainment releases in the quarter – Raya And The Last Dragon and Soul – compared to Star Wars: The Rise Of Skywalker, Frozen II, Onward, Call Of The Wild and Ford v. Ferrari in the year-ago quarter.
A decrease in theatrical box office revenues was primarily due to higher marketing expense for future releases and lower operating income – only Cruella opened (day-and-date in cinemas and on Disney+ Premier Access) in the third quarter, although that compares with zero theatrical releases in the third quarter of 2020.
Asked by an analyst why Disney was not switching Fox action-adventure Free Guy and Marvel Studios' Shang-Chi And The Legend Of The Ten Rings from respective August 13 and September 3 exclusive theatrical slots to a hybrid release amid the Delta surge, Chapek said outstanding commitments to partners and deal terms made that impossible. He added that the 45-day exclusive release of Shang-Chi was an "experiment" that would provide new data points.
Parks division turns a profit
As theme parks and cruise ships have been returning to operation revenues for the parks, experiences and products division grew from $1.1bn in the year-ago quarter to $4.3bn. Operating profit swung from a loss of $1.87bn to a positive $356m.
Walt Disney World Resort and Shanghai Disney Resort have been open throughout the third quarter, whereas a year ago Walt Disney World Resort was closed for the entire quarter and Shanghai Disney Resort was open for 48 days. Hong Kong Disneyland was open for 72 days in the current quarter and 10 days in the year-ago quarter.
Disneyland Resort and Disneyland Paris were open for 65 days and 19 days respectively after remaining closed during the year-ago quarter. Studio executives anticipate spending $1bn in implementing safety protocols for staff, visitors and talent, as well as addressing government regulations.