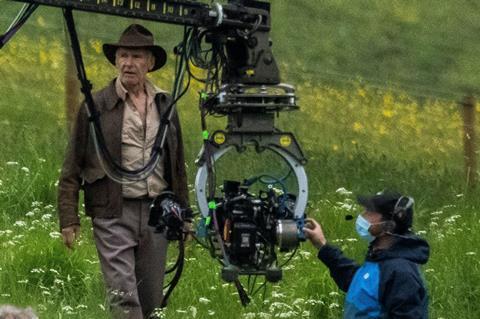 Disney has shuffled its release calendar and moved a number of key tentpoles with the biggest change reserved for the fifth Indiana Jones film which moves from July 29 2022 to June 30 2023.
It is understood the moves are due to production and timing matters and each film is being lined up for exclusive theatrical releases. Harrison Ford suffered minor injury during filming over the summer and has since returned to production. The new schedule means Indiana Jones 5 directed by James Mangold will now open over the July Fourth holiday weekend.
There is plenty of tinkering with the Marvel Studios schedule which sees Sam Raimi's Doctor Strange In The Multiverse Of Madness pushed from March 25 2022 to open the summer on May 6 2022, Taika Waititi's Thor: Love And Thunder from May 6 2022 to July 8 2022 while Ryan Coogler's Black Panther: Wakanda Forever moves from July 8 2022 to November 11 2022.
Nia DaCosta's The Marvels moves from the November 11 2022 slot to February 17 2023, which in turn pushes Peyton Reed's Ant-Man And The Wasp: Quantumania from that slot to July 28 2023. Untitled Marvel moves up by one week from November 10 2023 to November 3 2023.
Five films have been removed from the calendar: Untitled Disney Live Action previously dated July 14 2023; Untitled Marvel previously dated July 28 2023; Untitled Marvel previously dated October 6 2023; Untitled 20th Century Studios previously dated October 2 2023; and Untitled Marvel previously dated November 10 2023.