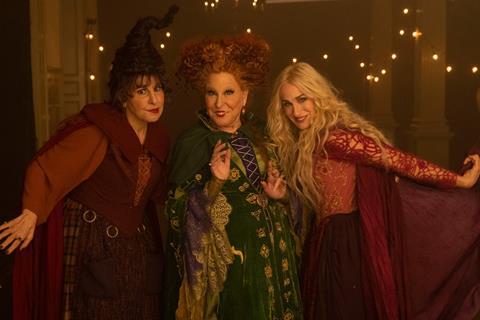 Two days after reporting soft fourth quarter earnings, Disney announced an avalanche of upcoming content available to Disney+ subscribers that includes launches today (November 12) for Shang-Chi And The Legend Of The Ten Rings, Jungle Cruise, and upcoming releases of WandaVision 'Agatha' spin-off, Pinocchio, and the Obi-Wan Kenobi series starring Ewan McGregor.
Making the announcements on Disney+ Day, the second anniversary of the streamer's launch in the US and the second iteration of the studio's splashy promotional event, executives pointed to a raft of new content starting today and stretching beyond 2022.
2021 highlights include: Peter Jackson's docuseries The Beatles: Get Back on November 25; Disney Intertwined (Entrelazados), the first Disney+ Original Series produced in Latin America, available today; Diary Of A Wimpy Kid (animated) on December 3; Marvel Studios series Hawkeye on November 24; and National Geographic series Welcome To Earth with Will Smith on December 8.
Coming in 2022 are: Simon Pegg in The Ice Age Adventures Of Buck Wild on January 28; Disenchanted with Amy Adams and Patrick Dempsey exclusively on the service in autumn; Robert Zemeckis's live-action / animated Pinocchio with Tom Hanks, Cynthia Erivo and Joseph Gordon-Levitt (autumn); Hocus Pocus 2 (pictured) with Bette Midler, Sarah Jessica Parker and Kathy Najimy exclusively in autumn; and short-form series Zootopia+.
Pixar documentaries Turning Red and Lightyear, and Cars series Cars On The Road also debut in 2022, as do: Lucasfilm's Willow and Ewan McGregor in the series Obi-Wan Kenobi; Marvel Studios series She-Hulk, Moon Knight and Ms Marvel; and National Geographic series Limitless with Chris Hemsworth.
Marvel Studios also announced WandaVision spin-off Agatha: House Of Darkness, Samuel Jackson and Ben Mendelsohn in Nick Fury /Skrull Talos spin-off Secret Invasion, animated series X-Men '97, Spider-Man: Freshman Year, Marvel Zombies, The Guardians Of The Galaxy Holiday Special, and the I Am Groot collection of shorts.
The strategically timed announcements come after Wednesday's (November 10) Q4 report that missed estimates across various sectors and sent Disney stock down 5% on the day.
Disney+ global subscribers increased by 2.1m to 118.1m after Wall Street predicted growth of around 9m. Disney CEO Bob Chapek had forecast in September there would be low single-digit growth in Q4 due to "headwinds" and said on Wednesday the target was to reach 230m-260m members by 2024.
Company-wide revenue of $18.5bn fell below analysts' forecasts. Following the reopening of theme parks, the parks division revenue gained 26% for revenue of $5.45bn which is nearly double the year-ago level. The US reopened its borders on Monday (November 8), which bodes well for international visitor numbers going forward although executives said they did not expect to see that positive impact until the second half of fiscal 2022.