EXCLUSIVE: Signature inks deals with Sierra, Europacorp, more.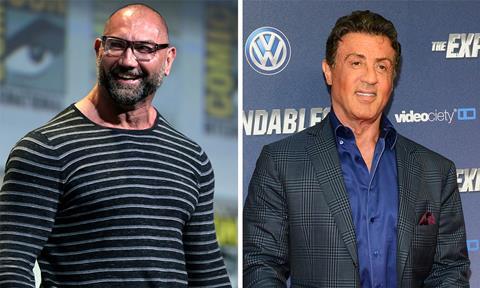 UK distributor Signature Entertainment has snapped up a raft of US and international titles including Sylvester Stallone and Dave Bautista action-thriller Escape Plan 2: Hades from Highland.
The sequel to the 2013 Arnie/Stallone action title, which grossed $140m worldwide, is currently in production and set for release in 2018.
In Hades, Stallone's character Ray Breslin is called on to organize another for-hire security force but when one of his team, the wing chun master Shu (Xiaoming Huang), goes missing – inside a computerized techno-terror battle-maze known as Haze, where human combatants brawl like beasts – Breslin goes back into the secret lock-up to save his friend.
Bautista co-stars as a deadly acquaintance of Breslin's alongside Jaime King, Jesse Metcalfe and 50 Cent.
From Europacorp the company has picked up heist thriller Renegades, co-written by filmmake-producer Luc Besson and The Magnificent 7 and The Expendables 2 writer Richard Wenk.
Into the Storm director Steven Quale helms the film about a group of Navy SEALs which attempts to solve a long-forgotten mystery while uncovering an immense treasure hidden in a lake in war-torn Serbia in 1995.
Cast includes J.K. Simmons (Whiplash), as well as Sullivan Stapleton (300: Rise of an Empire), Ewen Bremner (Trainspotting) and Charlie Bewley (Twilight). The film is being lined up for an early 2018 release.
Also new to the slate for 2018 is John Travolta action movie Speed Kills from Hannibal about a Miami property mogul, professional boat-racer and womaniser with secret links to one of the biggest mafia groups in Miami and dangerous drug cartel connections.
Also starring are Katheryn Winnick (Vikings) and Mira Sorvino (Mighty Aphrodite).
Production is due to get underway at the end of May 2017 on the project which comes from the producers of USS Indianapolis and I Am Wrath, and from Takers director John Lussenhop.
Signature has also struck deals with Sierra for action-thriller The Hunter's Prayer, starring Sam Worthington as a solitary assassin hired to kill a young woman. The film is due out this summer.
Meanwhile, from Myriad Pictures, the company has secured Red Dog: True Blue, the prequel to 2011 Australian box office hit Red Dog about the friendship between a young boy and a scrappy dog.
Bryan Brown (Australia), Jason Isaacs (Harry Potter) and Levi Miller (Pan) star in the movie which is due out this summer.
Commenting on the new additions to the slate, Signature's head of acquisitions and development Elizabeth Williams said: "We are thrilled to have acquired these exciting and highly commercial films, continuing to work with a prestigious list of sales agent partners. We take pride in the variety and quality of our slate and are extremely excited to bring these films to UK audiences."
Signature is currently in post-production on thriller Final Score, which it is co-producing, and the company is understood to be working on a slate of US and UK features.