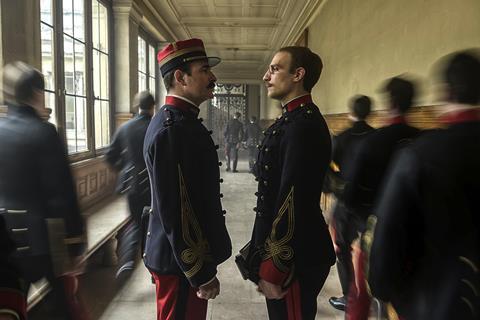 European distributors of Roman Polanski's An Officer And A Spy have told Screen they are standing by their release plans despite protests in Paris and a fresh rape allegation against the director.
As previously reported, Gaumont is pushing ahead with a 550-screen release in France from today despite an accusation by photographer Valentine Monnier that Polanski raped her in 1975 when she was 18-years-old. Polanski has denied the allegation via his lawyer who says they plan to take legal action against Le Parisien newspaper, which printed Monnier's story.
Other distributors have now confirmed to Screen that they will not divert from their release plans for the historical drama, which centres on French-Jewish army officer Alfred Dreyfus who was falsely accused of being a spy in the late 19th century.
Midas Filmes is set to release the historical drama in Portugal toward the end of January and managing director Pedro Borges said the Lisbon-based distributor was "conscious of the controversy". He added that the company had considered the implications of releasing a film by Polanski when it acquired An Officer And A Spy at Cannes.
"It is a masterpiece and one that recreates a moment in history that couldn't be more pertinent in the present day," said Borges. "We hope people will watch the film regardless of what they may think about those allegations."
These sentiments were echoed by Jakub Duszynski, artistic director of Warsaw-based Gutek Film, which will release the film in Poland on December 27.
"Our release date is set and we are not considering any changes," he stated. "While considering this project, we were only discussing the Dreyfus Affair and its relevance for Polish society, Robert Harris's bestselling book and the remarkable screenplay."
Duszynski highlighted how the film had won the Grand Jury Prize in Venice, following its controversial selection to premiere in competition at the festival, and is considered one of the frontrunners at the upcoming European Film Awards.
"The film is outstanding and we are looking forward to sharing it with a Polish audience," he added.
Enrique González Kuhn at Madrid-based Caramel Films said the company was monitoring the situation ahead of a planned January 1 release in Spain. "It is too soon to know if it will change something," he said.
The feature is due to be released in several territories over the coming months including Scandinavia (Future Film), Italy (01 Distribution), Japan (Longride), Greece (Odeon) and Israel (United King Films).
Deals in the US or UK have yet to be announced by Paris-based sales outfit Playtime.
It remains to be seen how the scandal will impact the film's box office. In an early indicator, the film topped the box office at its debut 9am screening at the UGC Cinema Les Halles theatre in central Paris. This is regarded as a litmus test by the French industry for a film's future performance.
It drew 136 paying spectators against 48 for Ford v Ferrari, 30 for Little Joe, 22 for Noura's Dream and 19 for Countdown.