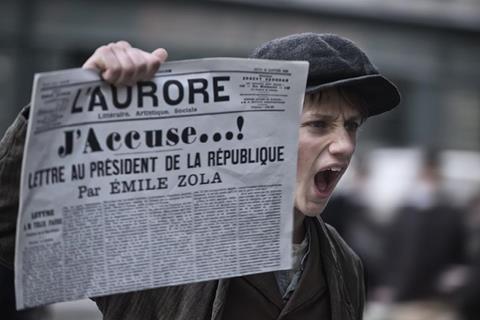 French studio Gaumont is continuing with its theatrical launch of Roman Polanski's An Officer And A Spy today (November 13) in the face of growing protests against its release, following a fresh rape allegation against the director.
A preview screening at the Le Champo cinema in the Latin Quarter of Paris had to be abandoned on Tuesday evening after a group of female rights activists picketed the event, brandishing slogans, reading: "Polanski rapist, cinema is complicit, public is complicit."
French actor Louis Garrel, who plays the role of the wrongly accused army officer Alfred Dreyfus in the historical drama, was set to have attended for a post-screening discussion with two leading historians. But the event was abandoned around 9pm after the police intervened.
The official premiere in the presence of Polanski at the UGC Normandie cinema on the Champs-Elysées went ahead as planned. He avoided the red carpet, however, entering and exiting the cinema via the back door.
Fresh rape allegation
The release of An Officer And A Spy has been left in disarray following an accusation by photographer Valentine Monnier that Polanski raped her in a ski chalet in in Gstaad, Switzerland, in 1975 when she was 18-years-old.
The accusation was published by French newspaper Le Parisien last Friday (November 8) where Monnier claimed: "He hit me, beat me into submission and then raped me… I had just turned 18… I thought I was going to die."
Polanski denied the allegation in a statement issued by his lawyer Hervé Temime, who said they would be taking legal action against Le Parisien and would not participate in "a media trial".
The accusations brought the final leg of the promotional campaign for the film to a grinding halt. Lead actor Jean Dujardin, who plays a military investigator who fought for justice for Dreyfus, pulled out of a primetime interview on TF1 on Sunday evening, while a raft of pre-recorded interviews have also been ditched by the broadcasters who were due to air them.
Gaumont was a key backer of the $20m production, led by French producer Alain Goldman's Legende Films with the support of RP Productions, Eliseo Cinema, Rai Cinema, France 2 Cinema, France 3 Cinéma, Kinoprime Foundation, Kenosis and Horus Movies.
Gaumont did not respond to emailed questions from Screen as to whether it would alter its 550-theatre release strategy or comment publicly on the allegation levelled at Polanski.
International response
It remains to be seen what implications the allegation will have on the film's international career.
Screen has canvassed a dozen international distributors on whether Monnier's accusation would impact their release plans. The handful who replied said they were monitoring the situation but expected to keep their original strategy in place.
The fresh scandal could also dent the films chances in the upcoming European Film Awards, where An Officer And A Spy is the frontrunner alongside Pedro Almodovar's Pain And Glory and Marco Bellocchio's The Traitor.
It has four nominations for best European film, best director, best actor for Dujardin and best European screenwriter for Robert Harris and Polanski.
The European Film Academy did not respond to an emailed question from Screen on whether the accusation would impact the film's eligibility for the competition.
#MeToo debate reignites in France
Monnier's allegation came just days after French actress Adèle Haenel reignited the #MeToo debate in France when she decided to go public on investigative news site Mediapart with accusations that director Christophe Ruggia molested her as a teenager. He has denied her account.
Haenel was one of the first to come out publicly in support of Monnier, writing in a letter to Le Parisien and Mediapart: "I support Valentine Monnier. I was overwhelmed by her account. I believe her and her stand is all the more admirable given that her aggressor is powerful."
There has been little public reaction from the rest of the cinema world to Monnier's allegation.
French authors, directors and producers' guild l'ARP issued a statement on Tuesday evening, however, announcing that it would discuss a motion at its next board meeting to introduce a new regulation to combat acts of sexual misconduct within its ranks.
Under the proposed measures, any member convicted in a court of law of a crime of a sexual nature would be automatically excluded from the organisation, while any member under investigation on charges of sexual misconduct would be suspended until the case was decided.
In the backdrop, Haenel and Monnier's revelations have given fresh impetus to the #MeToo movement in France, where it has never taken hold in the same way as in the US and UK.
A backlash appears to be building, with female rights activists becoming increasingly vocal in their charge that the country's cinema establishment has been complicit in a culture that normalised sexual harassment within the film industry. Mediapart they had received an avalanche of emails from private individuals recounting cases of sexual harassment in the wake of Haenel's decision to go public with her experiences.