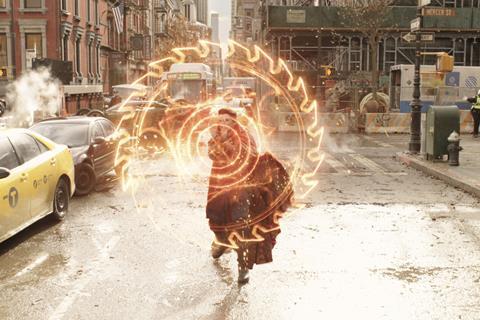 Doctor Strange In The Multiverse Of Madness raced to an estimated $229m globally through Friday (May 6), soaring to $139.3m from the first three days of international release and $90m from the North American opening day including Thursday previews to surpass the 2016 original's entire $85.1m opening weekend.
The North American gross stands at the seventh biggest first day in industry history and means Marvel Cinematic Universe releases hold five of the top 10 opening days. Disney executives are forecasting the three-day opening weekend in the $170m-$185m range.
Internationally the film is now active in 49 material markets and finds itself in good company. It is tracking 17% behind Spider-Man: No Way Home, 180% ahead of The Batman and 207% ahead of Doctor Strange on a like-for-like basis.
The lead markets are South Korea on $19.6m, UK on $12m, Mexico on $11.6m, Brazil on $7.7m, Japan on $6.7m, France and Australia on $6.4m apiece, Germany on $5m, Italy on $4.8m, India on $4.3m, and Malaysia on $4m. Other markets account for $50.8m.
Disney will report full estimated weekend results on Sunday.
MAY 6 REPORT: Doctor Strange In The Multiverse Of Madness scored an impressive $36m in Thursday previews in the US while the international box office climbed to an estimated $85.7m after two days following debuts in the UK, Australia and Mexico.
Thursday's (May 5) previews rank as the eighth highest of all time behind Avengers: Infinity War's $39m in 2018 and the fifth highest Thursday night preview ever for Imax. Today a bullish Disney will open the Marvel Studios tentpole starring Benedict Cumberbatch and directed by Sam Raimi in 4,534 locations for the seventh widest North American opening footprint of all time.
Internationally the sequel to the 2016 original expanded into a further 24 "material" markets and opened top everywhere following the Wednesday launch and is now active in 44. The first two days are estimated to be 12% behind behemoth Spider-Man: No Way Home, 172% ahead of Doctor Strange and 197% ahead of The Batman on a like-for-like basis.
The top market as of Friday is South Korea on $14.7m, followed by Mexico on $8m, UK on $6m, Japan on $5.3m, and Brazil on $5.1m. France has produced $4.5m, Australia $4m, Italy $3.3m, Germany $2.9m and Malaysia $2.8m.

Among the notable industry marks are the best pandemic era debut in Indonesia and Peru; the second best pandemic era opening days in Australia, Mexico, Brazil and Argentina; and the third best in the UK.
Of interest is the UK, where Multiverse Of Madness opened above the Thursday debut of No Time To Die and was almost equal to the Friday launch of The Batman.
Doctor Strange grossed $232.6m in North America and $445.2m internationally for a $677.8m global tally.