Other winners at the ECA Awards included a live Muse concert, three Royal Opera House productions and the British Museum's Pompeii Live.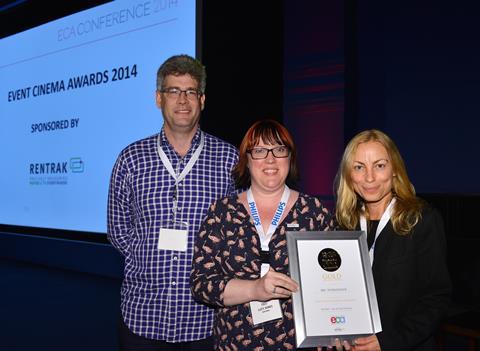 BBC Worldwide's 50th anniversary episode of Doctor Who: The Day Of The Doctor has won the Gold Award at the 2nd ECA Awards in London.
As well as being broadcast simultaneously in 94 countries last November, the special was screened in 3D at cinemas in the UK, US, Canada, Mexico, Australia and New Zealand, generating $10.2m at the global box office.
The award was accepted by Julia Nocciolino, commercial manager for Doctor Who at BBC Worldwide.
The ECA Awards, hosted by the Event Cinema Association, recognize achievements in box office admissions, programming and exhibition.
Melissa Cogavin, managing director of the ECA, said "We saw a big increase in the number of box office awards given this year which just goes to show how far we've come as an industry.
"I am delighted to see so many great titles, companies and individuals duly recognized for the hard work it takes to make a success of an event cinema release – it's indicative of the rise of event cinema as a sector and the ECA congratulates them on a great achievement."
Voting by members took place in October.
ECA Awards 2014
Best Box Office Awards
Gold Award (500,000 admissions and over)
Doctor Who – Day of the Doctor, BBC Worldwide
Bronze Awards (100,000 admissions and over)
Pompeii Live, British Museum/More2Screen
Nutcracker 2013, Royal Opera House, Arts Alliance
Giselle 2014, Royal Opera House, Arts Alliance
The Sleeping Beauty, Royal Opera House, Arts Alliance
Muse: Live at Rome Olympic Stadium, Omniverse Vision
Excellence in Programming Awards
Pompeii Live, British Museum
Canonization Live in 3D from the Vatican, Nexo Digital
Muse Live at Rome Olympic Stadium, Omniverse Vision
Excellence in Exhibition Awards
Marc Allenby, Picturehouse Cinemas, UK
Mark Walukevich, Showcase Cinemas, USA
Graham Spurling, Movies@ Cinemas, Ireland