BFI to release new 4K digital restoration of David Lean's epic starring Omar Sharif as part of its upcoming Love project.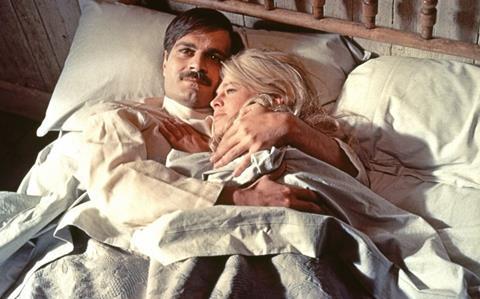 David Lean's Doctor Zhivago is to be re-released in the UK to mark the film's 50th anniversary and form part of a major new project from the British Film Institute (BFI) based around love stories.
The BFI will release a new 4K digital restoration of David Lean's epic romance set against the backdrop of the Russian Revolution, starring the late Omar Sharif alongside Julie Christie, on November 27.
The film, based on the novel by Boris Pasternak, won five Academy Awards and remains the eighth most successful film of all time at the US box office (adjusted for inflation).
Doctor Zhivago will be one of the cornerstone theatrical releases for Love, the BFI's major new project set to run from October to December that will centre on love stories in film and television.
Alongside a major programme to be held at the BFI Southbank in London, there will be UK-wide theatrical re-releases, DVDs, a special collection on BFI Player and bespoke film screenings and experiences across the country, presented in partnership with the BFI Film Audience Network (BFI FAN).
There will be re-releases of Brief Encounter (Nov 6), True Romance (Nov 20) and When Harry Met Sally (Dec 11) by Park Circus during the season.
A special 'Summer Love Weekend' will take place at the end of this month at London's British Museum and will act as a curtain raiser for the main project. Titles screening from Aug 27-29 include A Room With A View, Badlands and The Princess Bride.
The full BFI Love programme will be revealed on September 15.
The BFI's re-release of Doctor Zhivago continues the organisation's partnership with Warner Bros., which has seen the re-release of iconic titles including Blade Runner: The Final Cut, 2001: A Space Odyssey and The Shining as part of previous BFI seasons, Sci-Fi and Gothic.