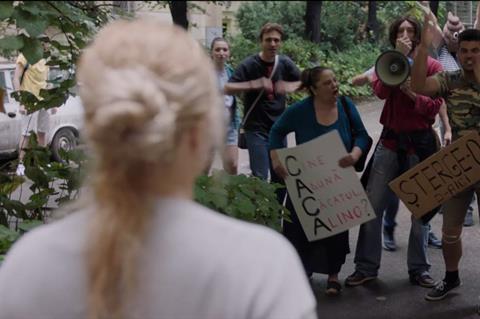 #Dogpoopgirl, the debut feature of Romanian actor-writer turned filmmaker Andrei Hutuleac, has won the best film prize at the Moscow International Film Festival this evening (April 29).
The film is a social satire inspired by the real case of a woman shamed online when she refuses to clean the mess her dog has made on a car. The incident is filmed, goes viral and the woman's life takes an unwelcome turn.
Julian Radlmaier's German genre title Bloodsuckers - A Marxist Vampire Comedy, was awarded the Silver George special jury prize.
Russian filmmaker Aleksey Federchenko won the best director prize for Last Dear Bulgaria.
The acting prizes went to Soheil Ghannadan for his role in Noushin Meraji's Iranian drama The Son, while Andreea Gramosteanu picked up best actress for #Dogpoopgirl.
The main competition jury comprised jury chair and Filipino director Brilliante Mendoza, with jury members Serbian-Russian actor/producer Milos Bikovic, Brazilian filmmaker Karim Ainouz, Russian composer Yuri Poteenko and Russian film and TV director Nigina Sayfulaeva
MIFF's second big strand was the international documentary festival. The jury of Dorota Roszkowska, Atanas Georgiev and Lev Karakhan awarded the best documentary film prize to Hogir Hirori's Swedish title Sabaya.
The jury members for both competitions were all in Moscow for the hybrid festival this week that saw all the films screen in physical cinemas to socially-distanced audiences. Filmmakers joined online if they were unable to travel to Moscow.