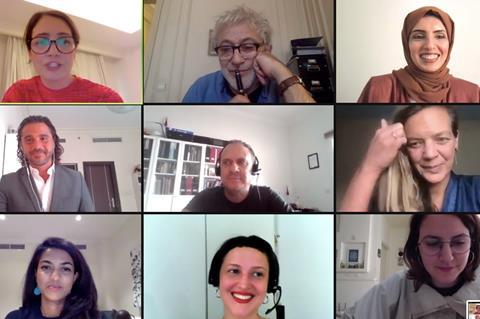 The Doha Film Institute (DFI) kicked off the online edition of its seventh annual talent and project development meeting Qumra on Friday.
Unfolding from March 12-17, the event will nurture 48 short and feature-length films at different stages of their creation from 41 countries, that have previously received the support of the DFI grants programme.
They range from in-development projects such as Moroccan director Kamal Lazraq's Casablanca-set kidnap caper Hounds to projects in post-production including Lebanese filmmaker Mounia Akl's Costa Brava Lebanon, Iraqi director Shawkat Amin Korki's The Exam and Cambodian drama White Building by Kavich Neang.
The event usually takes place in and around Doha's old souk quarter and its Museum of Islamic Art in March but has moved online this year due to the travel restrictions of the global Covid-19 pandemic.
DFI CEO Fatma Hassan Alremaihi and the institute's artistic advisor Palestinian filmmaker Elia Suleiman launched the meeting on Zoom on Friday afternoon.
"The real credit goes to our young filmmakers. As the world continues to grapple with the challenges of the pandemic, it took enormous resolve and determination to pursue their passion. I salute their commitment and dedication to the art of film," Hassan Alremaihi told the 122 participants who had tuned in.
Suleiman, who connected from Paris, quipped he hoped the event might give him some inspiration for his next feature.
Explaining he had just finished promoting his last film It Must Be Heaven a month ago, Suleiman said he was trying to speed his pace of filmmaking, which currently runs at one film every seven to ten years.
"At that rate, I'll be making the next one with a walking stick. I need to speed up but the only thing is that I'm all dried up. I'm in the post-mortem period, where you're kind of empty and cook all the time and are inspired only from the belly so I thought why not be inspired by the projects, the masters… I'll be the thief of Qumra this year," he joked.
Qumra masters
With more time to prepare and the experience of running a raft of events and workshops over the past 12 months, the DFI team has created an event this year which is more akin to Qumra's usual physical format.
As in its physical incarnation, the seventh edition is headlined by the so-called Qumra masters, this year comprising directors Claire Denis, James Gray and Jessica Hausner, sound designer Mark Mangini and cinematographer Phedon Papamichael.
All five professionals were due to participate in the sixth edition in 2020 which was cancelled at the eleventh hour due to the pandemic and replaced by a slimmed online version later on.
Each master will give a masterclass and also support select projects with one-on-one sessions.
France's Denis kicks off the masterclass programme this evening and will be followed by Mangini and Papamichael over the weekend.
Alongside the masters, there will also be talks by Lebanese singer and musician Yasmine Hamdan, who has composed music for the films of directors such as Jim Jarmush and Maysaloun Hamoud, and photographer Brigitte Lacombe, who has worked with the likes of Martin Scorsese, Lynne Ramsay and Quentin Tarantino.
The programme also features the Qumra Screenings, which are available for MENA audiences, showcasing films supported by the DFI's grants programme. Highlights include Palestine drama 200 Meters, Moroccan tragi-comedy The Unknown Saint and documentary Their Algeria.
Some 150 film industry professionals, spanning film directors, producers, consultants, fund managers, sales and acquisition agents, script experts, distributors and TV commissioners will participate this year, to give advice to the projects.
They include Netflix Arabic original series manager Motasem Ali, Mubi senior acquisitions manager Kevin Chen; French distributor Sarah Chazelle, co-head of Jour2Fête; Moroccan producer Lamia Chraibi, French sales agent Yohann Comte at Charades and US Visit Films president Ryan Kamp.
Qumra has also been a fertile hunting ground for festivals in the past and professionals from this domain will be out in force at this year's edition too. They will include El Gouna's festival director Intishal Al Timimi, Toronto artistic director Cameron Bailey and Venice scout and programmer Paolo Bertolin, Marrakech's artistic director Rémi Bonhomme, and Cannes Directors' Fortnight managing director Christophe Leparc.