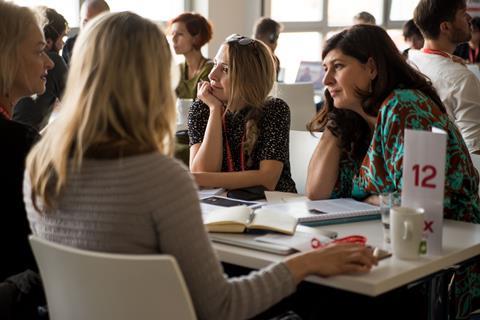 New documentaries by Patience Nitumwesiga, Subina Shrestha and Judit Oláh are among 35 international projects selected for the 17th DOK Co-Pro Market (Oct 25-29), to be held as a hybrid event during the DOK Leipzig film festival (Oct 25-31).
More than half of this year's line-up are set to be directed by women filmmakers.
Ugandan filmmaker Patience Nitumwesiga's The Woman Who Poked The Leopard tells the story of feminist and human rights activist Stella Nyanzi and will be produced by Kampala-based Shagika Tales. It won the IDFA Spotlight Award at Durban's FilmMart last month.
Emmy-nominated Nepalese journalist and filmmaker Subina Shrestha will be pitching Devi, about a former guerrilla fighter who survived rape and now fights for justice for herself and other survivors despite opposition from the Nepalese government. The project, represented at the DOK Co-Pro Market by the UK producer Rosie Garthwaite's Mediadante, is being planned as a co-production between Nepal, Germany, France and the UK and received an honorary mention at the Cannes Doc in Progress Awards in July.
Hungarian filmmaker Judit Oláh will be looking for partners for her new project Maomi, about a mother-daughter relationship, to be produced by Annika Mayer's German-based Majmun Films with Inez Mátis' Pi Productions.
Irish-born moving image artist Myrid Carten is presenting her experimental documentary No Place Like Home which was one of the Stuart Croft Foundation's award-winners last year.
Helsinki-based Tuffi Films will be pitching Finnish actress Pihla Viitala's Carmen about a young Romany girl who lives with her grandmother and aunt in the suburbs of a small town in Northern Finland.
Poland will be represented by Agnieszka Borzym's directorial debut Girls' Stories which charts the ups and downs of two adolescent girls. The production by Pinot Films was pitched at Krakow Documentary Film Festival's Docs to Start and Sunny Side of the Docs - where it won the Netflix New Voices Award - and is now being presented at Nordisk Panorama Forum and Kids Kino Industry in Warsaw.
Other projects include the German-Egyptian creative documentary The Missing Planet by Marouan Omara and Tom Rosenberg, described as "a journey through the surreal landscapes and fragmented memories of another world that mirrors our own"; Singaporean dance artist-filmmaker Chan Sze-Wei's I Am Walking following the birth of vogue ballroom culture in Thailand, the Philippines, Malaysia and Singapore and the young dancers' fight for acceptance of LGBTQ+ identities; and Argentinian filmmaker Martin Benchimol's The Castle about a domestic worker's seemingly dreamlike inheritance of a house in the country from her former employer with nightmarish consequences.
This edition will be the first in a hybrid format with projects set to be presented at more than 900 individual meetings, held either in person or online. Last year's DOK Co-Pro Market was held online.
Speaking to Screen, Nadja Tennstedt, who was appointed as the new director of DOK Industry last April, said that she was impressed with the quality of the submitted projects. "Reducing the selection to 35 [from 265 entries] was a difficult, but above all inspiring process."
She added: "We are keen to continue and expand the collaborative approach that has been a guiding principle of the DOK Co-Pro Market since its founding. Our aim is to strengthen the international network of producers and creatives, to facilitate access of equity-seeking documentary professionals to the international market and to support the production of artistic and daring documentaries questioning the status quo."