Once I Was A Dragonfly was selected from 10 works in progress presented to the festival's jury.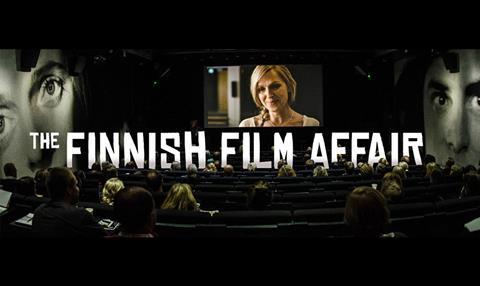 Producer-director Elli Toivoniemi's feature documentary debut Once I Was A Dragonfly received the Best Pitch Award at this year's Finnish Film Affair (Sept 22-24) in Helsinki.
The new $3,400 (€3,000) award, which was sponsored by the Finnish Film Foundation for use in the film's international marketing, was decided by a three-person jury made up of Fortissimo Films' Berenice Fugard, Robert Burke of TenOne Entertainment and LA-based critic Barbara Gasser.
Announcing the winner on Wednesday evening, Gasser said that it had been a "tough decision" to make the final choice from the 10 works in progress, but Toivoniemi's film boasted "stunning visuals" and was "a story we could also relate to".
The $224,000 (€200,000) Tuffi Films production centres on 24-year-old Miikka Friman's lifelong fascination with dragonflies from the tender age of six and the decisions he must take as the obligations of adulthood approach.
From Master to Tarantino
This year's pitching of works in progress and projects in development included a stop motion puppet animation feature loosely based on Mikhail Bulgakov's Master And Margarita and a contemporary Nordic Western Law Of The Land by Jussi Hiltunen, the "Tarantino of Lapland".
Directed by Prague-based Katariina Lillqvist, Master And Margarita has already been five years in the making and will be a mix of live action, 2D animation and stop motion, with contemporary references in a prologue and epilogue to the "absurd atmosphere" in Russia under President Vladimir Putin.
Law Of The Land was one of two projects presented by Making Movies' Kaarle Aho and Kai Nordberg, who are the only producers to have received the Screen International Best Pitch Award on two occasions at Tallinn's Baltic Event.
Aho revealed that principal photography will begin in November on Oscar-nominated Selma Vilhunen's Little Wing, which is about the complex relationship between a single mother and her teenage daughter.
Making Movies has already attracted Denmark's Final Cut for Real as a co-producer and broadcaster DR as a backer for the project which had been developed at the company for the past ten years.
Aho and Nordberg had previously served as co-producers on Final Cut For Real's production of Joshua Oppenheimer's The Look Of Silence.
They were also the producers of Klaus Harö's The Fencer which has been selected by Finland as its candidate for the Foreign Language Feature Film Academy Award category.
Meanwhile, Inland Film Company's Klaus Heydemann has brought Germany's Coin Film and Latvia's Mistrus Media onboard Heikki Kujanpää's period drama Laugh Or Die about a troupe of actors performing to save themselves from execution for atrocities committed during the Finnish Civil War.
Based on a true story, the film, a genre mix of prison drama and comedy, is currently at the development stage and is Inland Film's second present collaboration with Mistrus Media along with Chronicles of Melanie.
More than 70 international guests were in Helsinki this week for the fourth edition of the Finnish Film Affair, including sales agents from The Yellow Affair, Film Republic, EastWest Distribution, Memento Films International, Media Luna New Films, Outplay Films and TrustNordisk as well as festival programmers from Edinburgh, Sundance, SXSW and Transilvania International Film Festival, and distributors Fidalgo Film, Just Film Distribution and Kinosmith.
Sales for war drama
On the sidelines of the Finnish Film Affair, Eyewell's CEO Michael Werner revealed exclusively to Screen the first batch of sales deals for Elmo Nüganen's war drama 1944, which has been selected as Estonia's entry for the Foreign Language Feature Film Academy Award.
The Finnish-Estonian co-production between Taska Film and MRP Matila Röhr Productions has been sold for German-speaking territories to Spirit Media and French-speaking countries to Ninety Seven Film Prod., while other deals have been signed by the Swedish-based sales outfit for Japan (Inter Film), Korea (Sonamu), China (Champ Lis) and the Benelux (Just Film Distribution).
Werner added that signatures are pending with distributors from the UK, Sweden and Poland for the Second World War drama.
Coming from last night's Finnish premiere at Helsinki's Love & Anarchy Film Festival, 1944's Estonian producer Kristian Taska told Screen that the Finnish distributor Atlantic Film will release the film on 50 prints.
Taska released 1944 in Estonia through his own distribution arm earlier this year, breaking the record for the highest opening week's admissions of all time for an Estonian film..
Iron Sky sequel
Iron Sky Universe's producer Tero Kaukomaa also told Screen in Helsinki that the Iron Sky sequel, Timo Vuorensula's Iron Sky the Coming Race, will begin shooting in Belgium from October 19.
The $19.2m (€17m) sci-fi adventure is set to become the most expensive live-action film to date in the history of Finnish filmmaking and will be shot on six sound stages at the AED Studios in Antwerp over eight weeks.
It will see Iron Sky Universe reuniting with its German co-producer 27 Films Production from the first Iron Sky outing and bringing Belgium's Potemkino (Eisenstein In Guanajuato) onboard as a production partner.
Warsaw receives Absolution
Petri Kotwica's fourth feature, the suspense drama Absolution, will have its international premiere in the main competition at next month's Warsaw Film Festival (Oct 9-18).
The production by Minna Virtanen's Vertigo was presented at last year's edition of the Finnish Film Affair where it was picked up by the German-based sales agent Media Luna New Films for international distribution.
Absolution had its local premiere in a screening last weekend at the current Love & Anarchy Helsinki International Film Festival (Sept 17-27).