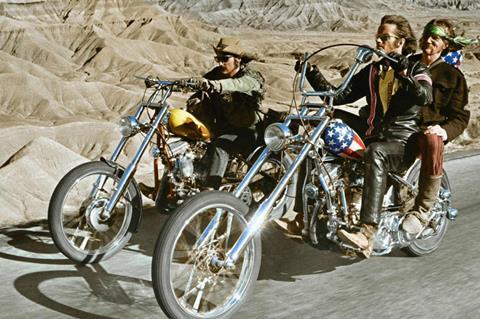 A screening of Easy Rider attended by lead actor Peter Fonda and a midnight screening of The Shining presented by Alfonso Cuarón lead the programme of the 16th edition of Cannes Classics, the heritage cinema section of the 72nd Cannes Film Festival (May 14-25).
Fonda, who co-wrote and co-produced the American independent classic as well as starred in it, will be present to celebrate its 50th anniversary. The film had its world premiere in Competition on the Croisette in 1969.
Mexican director Alfonso Cuarón will present a midnight screening of Stanley Kubrick's 1980 horror The Shining starring Jack Nicholson.
Spanish filmmaker Luis Buñuel features three times in the Classics programme, with The Golden Age (1930), The Young And The Damned (1950) and Nazarín (1958).
Tributes will be held to Italian filmmaker Lina Wertmüller, who will introduce her 1975 title Seven Beauties; and Czech American director and former Cannes jury president Milos Forman, who died in April 2018, with a screening of his 1965 title Loves Of A Blonde.
There will also be a screening of Vittorio De Sica's Miracle In Milan, which won the Grand Prix in 1951 – the festival's main prize before the creation of the Palme d'Or in 1955.
Other films playing in the Classics programme include Jean Renoir's Toni (1934), John Huston's Moulin Rouge (1952) and Oliver Stone's The Doors (1991).
Asian cinema is represented by Tao Jin's Diary Of A Nurse (1957) and Tian Zhuangzhuang and Peicheng Pan's The Horse Thief (1986) from China, plus Taiji Yabushita's The White Snake Enchantress (1958) from Japan.
The majority of the Classics programme will screen at the Buñuel Theater, Salle du Soixantieme or at the Cinéma de la Plage.
Cannes announced most of its official selection on April 18, with titles in competition from Terrence Malick, Céline Sciamma and Ken Loach.
Jim Jarmusch's The Dead Don't Die will open the festival; the closing title is yet to be announced.