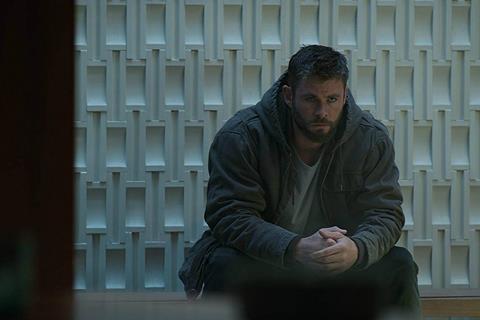 After a dreadful weekend at the UK box office last time out, with no films topping £1m across Friday-Sunday, this week sees the welcome arrival of Disney's latest superhero blockbuster Avengers: Endgame.
The film is the final entry in the current cycle of Marvel comic book adaptations and has been hotly anticipated since the previous film, Avengers: Infinity War, was released in April last year.
That movie started with a mammoth £23.1m opening Fri-Sun, and took £29.4m including previews on the Thursday. It went on to take a massive £70.8m in total, making it the 10th highest-grossing film in UK history.
Endgame has already racked up an impressive 2.1 million pre-sold tickets in the UK, including 1.2 million just for this weekend, according to tracking company Applaudience. That equates to 3.25% of the UK population already having bought tickets for the film, and roughly £20.1m in box office. it will open in 670 sites this weekend.
After the sunny weather in the UK last weekend, always a bad omen for box office takings, the forecast this weekend is for rain, which could propel Endgame to record numbers.
Infinity War was the third biggest Fri-Sun opening in the UK, behind only Harry Potter And The Deathly Hallows Part 2 (£23.75m) and Star Wars: The Force Awakens (£24.33m) – where will Endgame land?
The film has already had a bumper international session, grossing $169m (£131m) in one day from a list of territories including China, Australia, Korea and France.
There is also some strong counter-programming to The Avengers to be found in the UK this weekend. Going up against the Marvel giant may seem like box office suicide, but not everyone is interested in superheroes, and poor weather could drive a wider spectrum of the population back to cinemas (whether there will be any cinema screens not showing Avengers is another question).
Sony Pictures is handling the release of Eighth Grade, the debut feature from US comedian Bo Burnham. The film premiered at Sundance last year to strong reviews. In the US, it has grossed $13.5m (£10.5M) via A24 to date.
New Wave is releasing Jia Zhangke's Ash Is Purest White, which premiered at Cannes last year.
Vertigo has Bel Canto, Paul Weitz's music drama starring Julianne Moore and Ken Watanabe.
Elsewhere: Fledgling outfit 606 Distribution is releasing Wolfgang Fischer's drama STYX; Studiocanal has Romain Gavras's French crime comedy The World Is Yours; Verve Pictures has UK drama Pond Life; Eureka Entertainment has Sergei Loznitsa's Donbass; and Element Pictures Distribution is handling the Irish release of The Dig.
Key holdovers include Disney's Dumbo, eOne's Wild Rose and Lionsgate's Red Joan.