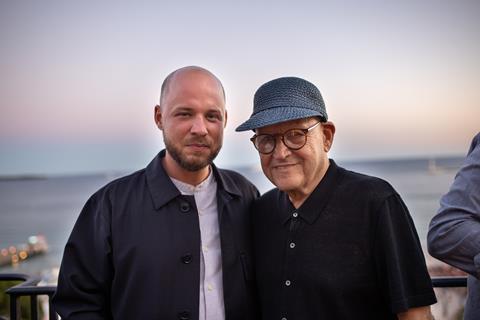 Eager to mine his back catalogue of IP, veteran US producer Ed Pressman is lining up local-language remakes of Bad Lieutenant, the crime drama he first made with Abel Ferrara nearly 30 years ago and subsequently remade with Werner Herzog.
Pressman, who joined son and Pressman Film VP of production Sam Pressman in Cannes this week to unveil the Evolver-Prologue VR collaboration with Terrence Malick, has lined up directors and local producing partners to adapt Bad Lieutenant in the UK, Germany, Italy, South Korea, and Argentina.
Scripts are being written and filmmakers attachments will be announced in due course. The Pressmans also plan to find partners for a French version and said the gritty stories will explore institutionalised police corruption. "It's like planting the same seed in a different climate," said Pressman. "Each grows in its own way, but the germ of the idea is a corrupt cop."
Pressman Film is also lining up Indecent Exposure, a feature about the dark intersection between Hollywood and Wall Street that Eric Rochant, showrunner on Canal + political thriller series The Bureau, will direct. The story focuses on David Begelman, the late head of Colombia Pictures who got caught up in an embezzlement scandal and was found dead many years later in a Los Angeles hotel room. Howard Korder (Lakeview Terrace, Boardwalk Empire) is adapting the screenplay from David McClintick's book of the same name.
Pressman is moving ahead on his long-gestating adaptation of Edward Abbey's The Monkey Wrench Gang and has brought on Raven Capital Management to finance and Open Road Films to distribute in the US. Henry Joost and Rel Schulman, who co-directed Catfish and Project Power, wrote and are directing the humourous take on a group of environmentalist saboteurs in the 1970s.
Production has wrapped on Dalíland in the UK and France. Ben Kingsley plays Salvador Dalí and Ezra Miller also stars as the young Dali n the 1970s-set tale of a gallery assistant who helps stage the legendary artist's show in New York. The cast includes Barbara Sukowa, Christopher Briney, Rupert Graves, Andreja Pejić, Suki Waterhouse, and Mark McKenna.
Principal photography switched from Portugal to Liverpool and Wales last spring due to the Covid surge. Mary Harron, which whom Pressman made American Psycho and The Moth Diaries, directs from a screenplay by John C. Walsh. The first cut is expected to be ready next month. Chris Curling and London-based Zephyr Films is producing, and Bankside Films and CAA handle sales.
Clint Mansell is completing the score on Rocket Science sales title She Will, the #MeToo-inflected Scotland-set Gothic revenge tale from Popcorn Films that was in the virtual Great 8 showcase of UK films presented to buyers on the eve of Cannes. The UK's Charlotte Colbert directs from a screenplay she co-wrote with Kitty Percy, and the cast feature Alice Krige, Kota Eberhardt, Malcolm McDowell, and Rupert Everett.
Cinetic Sales continues to engage buyers on 2021 SXSW and Tribeca selection Dear Mr Brody, the documentary by Keith Maitland about hippy millionaire Michael Brody, who gave away his money in the 1970s in the name of world peace.
Meanwhile Pressman said there was expected to be an announcement in due course of another long-gestating project, his remake of The Crow.
Sam Pressman is producing Evolver-Prologue, the VR experience that takes the viewer inside the human cardiovascular system. The piece will be the first chapter in a larger, location-based VR presentation produced by London artists Marshmallow Laser Feast and Atlas V of France that Pressman Film plans to unveil at Cannes 2022.
Led by Pressman, the Pressman Film team includes COO and head of business affairs Paula Paizes, VP's of production Kelly McKee and Sam Pressman, communications and special projects head Annie Pressman and executive assistant Jacob Wishnek.