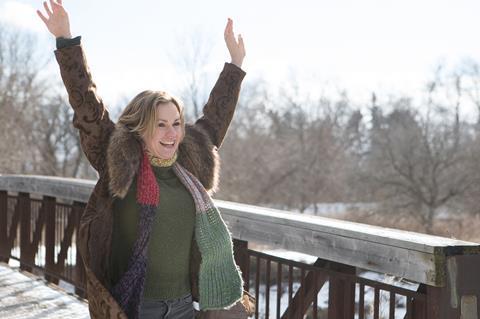 The full line-up for the 2018 Edinburgh Film Festival (20 June to 1 July) has been announced by artistic director Mark Adams.
This year's programme features 21 world premieres, including Stephen Moyer's directorial debut, The Parting Glass, starring Melissa Leo, Cynthia Nixon, Denis O'Hare, Anna Paquin (who also produces), Rhys Ifans and Ed Asner. Moyer and Paquin will also take part in an 'In Person' event.
Other world premieres include Simon Fellows' thriller Steel Country starring Andrew Scott; comedy Old Boys starring Alex Lawther and directed by Toby MacDonald; coming-of-age drama Two For Joy with Samantha Morton and Billie Piper; Lucid - the debut from writer/director Adam Morse starring Billy Zane and Sadie Frost; Jamie Adams' British comedy Songbird starring Cobie Smulders; and Netflix original Calibre starring Jack Lowden.
Also screening at the festival are Disney's Incredibles 2; Haifaa al-Mansour's Mary Shelley starring Elle Fanning; Brie Larson's directing debut Unicorn Store with Samuel L. Jackson and Joan Cusack; thriller Terminal starring and produced by Margot Robbie; Ideal Home starring Paul Rudd and Steve Coogan; Papillon with Charlie Hunnam and Rami Malek; The Secret Of Marrowbone starring George MacKay, Anya Taylor-Joy, Charlie Heaton and Mia Goth; and Mark Cousins' Cannes doc The Eyes Of Orson Welles.
Additional highlights include Q&As with writer/director David Hare and actors Rob Brydon and George MacKay, and previously announced opening and closing night films Puzzle and Swimming With Men.
Director of the BFI Film Fund Ben Roberts said: "We are proud supporters of EIFF - which plays such an important role as a platform for new Scottish, British and World Cinema, and as a real festival of discovery. Mark and his team have pulled together a rich and surprising programme, and it's great to see Scotland as the star of the show."
The complete line-up is HERE and the full list of world premieres is below:
The Parting Glass
Calibre
The Devil Outside
Dirt Road To Lafayette
Eaten By Lions
Lucid
Make Me Up
Old Boys
Songbird
Steel Country
Two For Joy
Winterlong
Almost Fashionable: A Film About Travis
Meeting Jim
Piano To Zanskar
Postcards From The 48%
A Punk Daydream (Lamunan Oi!)
Possum
Solis
Pig Film
Bannan (Tv Series)