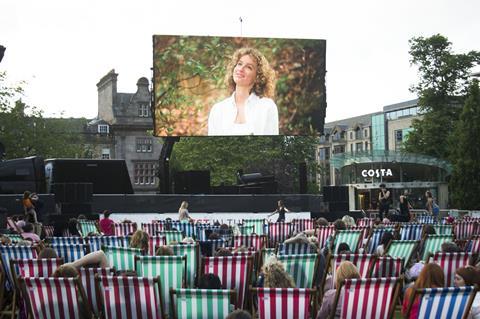 The Edinburgh International Film Festival (EIFF) has confirmed it will host a hybrid event from August 18-25, including both indoor and outdoor screenings in the city and throughout Scotland.
Physical screenings and events will take place at EIFF's main Filmhouse Cinema venue as well as on Edinburgh's St Andrew Square, where a free programme of "cinematic favourites" will be shown.
Further outdoor screenings will be hosted just outside the city at Port Edgar Marina on nearby estuary the Firth of Forth, where a purpose-built outdoor cinema space will be created close to the water. EIFF is also collaborating with partners to offer a programme of presentations across Scotland, with more details expected in the coming weeks.
Films will also be available to UK audiences through new streaming platform Filmhouse at Home, which was launched on March 26 by Filmhouse Cinemas – operated by EIFF's parent charity organisation, the Centre for the Moving Image (CMI). Filmmaker Q&As will form part of that offering.
As first reported by Screen last month, the festival has assembled a team of programmers led by Nick Varley, the founder and former co-CEO of distributor Park Circus. Guest programmers include Christophe Mercier, a former executive at Fox Searchlight and Warner Bros, who is working on an international selection; and Nada Cirjanic, a former exec at Great Point Media and Independent Film Sales, who is focused on UK titles.
Programmers with existing ties to the festival include Rohan Crickmar, who is selecting documentaries, and Abigail Addison, who is selecting animation titles. Shorts are being programmed by Jenny Clarke and experimental films by Lydia Beilby and Kim Knowles.
According to sources, this team is approaching sales agents to discuss titles for the scaled-back, hybrid edition of the festival and the full programme is set to be announced on July 28.
It would mark a return to August for EIFF, which usually takes place in June but was postponed in 2020 due to the pandemic. It might also pave the way for a permanent return to an August slot in the calendar, which has been called for since it moved to June in 2008. While no permanent move to August dates has yet been confirmed, Screen understands that candidates who have been approached for the new chief creative officer role at the festival have been told of plans for a shift back to the traditional slot.
Ken Hay, CEO of CMI and EIFF, said: "The festival will play a leading role in hailing the return to cinema-going and champion Scottish and UK films to audiences and industry around the world. We also believe that in this year particularly, that EIFF has a strong role to play in highlighting key social issues and will seek to deliver a programme that inspires curiosity and action in our audiences."
It is understood that a decision to go ahead with this year's edition was dependent on securing funding from Screen Scotland. Following the confirmation, Screen Scotland executive director Isabel Davis said: "As people start to come back together over the summer, it's exciting that EIFF will offer audiences in Edinburgh, Scotland and across the UK a celebration of the communal experience of cinema."
On the industry side, EIFF Talent Lab will return online to give 24 writers, directors and producers a range of practical support as they work on their first features. The EIFF Youth programme, designed to support the next generation of filmmakers, will run in-person and online from August 20-23. Further industry activity is expected to be announced in the coming months.
EIFF is also teaming with Filmarket Hub – an online marketplace that matches talent and unproduced projects with partners – to launch a new talent showcase, which will be announced on Friday (May 28).