EXCLUSIVE: Animated dark comedy set against contemporary small-town China is first Chinese animation to play at Berlinale.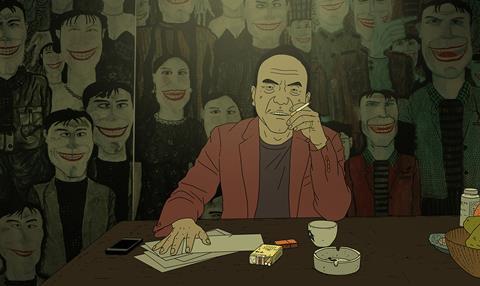 Memento Film International (MFI) has taken on world sales of Chinese animation Have A Nice Day ahead of its world premiere in competition at the Berlin Film Festival in February.
The Paris-based company is splitting sales territories with Hong Kong-based sales and distribution outfit Edko Films which will handle Asia. MFI will handle all other territories.
Have A Nice Day is the second animated feature from Nanjing-born filmmaker Liu Jian after the award-winning 2009 Piercing 1, which was billed as China's first independent feature-length animation.
It will be the first ever Chinese animated feature to play at the Berlinale.
The darkly humorous work revolves around Xiao Zhang, a chauffeur in a small Chinese town, who steals a large amount of money from his boss to help his girlfriend fix a failed plastic surgery operation.
News of the theft spreads, setting off a farcical chain of events as several different parties attempt to track down Xiao Zhang and retrieve the loot for their own use.
Yang Cheng at NeZha Bros. Pictures produced the feature alongside Jian and his Le-joy Animation Studio which he founded in 2007.
NeZha's Cheng said of the film: "A film noir with black humour elements, Have A Nice Day might remind you of some of the films by Guy Ritchie or Quentin Tarantino, but Liu Jian's visual style is original, beautiful, and powerful."
"Liu Jian spent over three years on making Have A Nice Day, with which he continues his unique narrative and visual styles, portraying the people, the lifestyles, and landscapes of contemporary China in a way that has never been done before, which deeply excites me," he added.
It is the first time MFI is handling a feature animation while previous Chinese titles on the company slate include Jia Zhangke's documentaries, Dong and Useless as well as Xiaolu Guo's Once Upon Time Proletarian.
"We're absolutely thrilled to work for the first time on an animation and this one is particularly special because it's in a genre that we love working on - film noir," said MFI managing director Emilie Georges.
"It caught us completely by surprise - the contemporary portrait of a small town in China, the brilliant animation, the storytelling hitting the genre points all in a such original, compelling and super-modern voice," she added.
"We think that with this spot in Berlin in Competition, the work of Liu Jian will find a much wider audience, not just with animation lovers but also with anyone who loves noir-movies."
Other festival titles on MFI's EFM slate include Cate Shortland's Berlin Syndrome, which gets in European premiere in panorama, after debuting in Panorama, and Martin Provost's The Midwife, which will world premiere out of competition.