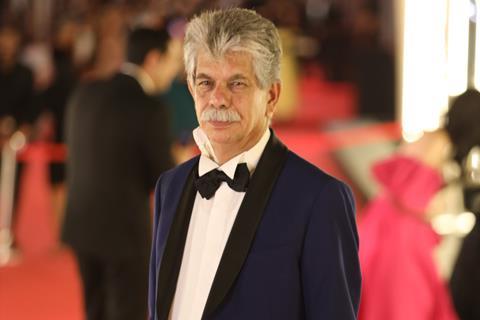 Egypt's El Gouna Film Festival, running in its namesake Egyptian Red Sea resort from October 14-22, got off to a memorable start this year when a fire broke out on the red carpet of the main festival plaza area on the eve of the opening ceremony.
By the next day, there was no sign of the near-disaster after hundreds of workers toiled through the night to repair the damage.
This freak accident would set the scene for an eventful edition, however, marked by guest deportations and cancellations, a local backlash against Egyptian competition title Feathers, a car accident involving co-founder and COO Bushra Rozza, which thankfully she emerged from with minor injuries, and the resignation of artistic director Amir Ramses.
Ironically, in spite of these dramas, the fifth edition was the festival's most successful and buzziest since its launch in 2017 in terms of audience numbers and the experiences of the cinema professionals in attendance.
There were packed screenings for Feathers and Mohamed Diab's Venice Horizons title Amira while regional cinema professionals were out in force for the CineGouna project platform, which was one of the biggest MENA industry events since the beginning of the Covid-19 pandemic in early 2020.
Other highlights included a masterclass with US director Darren Aronofsky and a cinema concert conducted by Ahmed El-Saedi, the music director and principal conductor of the Cairo Symphony Orchestra, featuring the music of films such as 2001: A Space Odyssey, Out Of Africa, Amadeus and The Mission.
Screen sat down with festival director Intishal Al Tamimi to discuss this eventful fifth edition.
Were you worried that the opening ceremony might not go ahead following the fire?
I was shocked but within 18 hours, they had repaired the damage with hundreds of workers working through the night, that was really something. The one positive aspect was that the fire put the El Gouna Film Festival in the news all over the world just as we were about to open. One guest from Moscow told me his driver had told him about the fire while he was on the way to the airport.
The open-air festival plaza precinct, inaugurated in 2020, has come into its own as a meeting place before and after the main screenings of the evening. There's been a buzzy atmosphere there this year.
I've said we needed a venue like this since the beginning. We have guests staying in 17 different locations across El Gouna and we needed somewhere that would bring them together. It's worked perfectly. The other place that has grown as a hub is the TUB university campus which was extremely busy for press and industry. They opened up their roof terrace for us this year so we could hold receptions after I sent them a photo of what they do at Venice Production Bridge [Venice's industry programme which unfolds in the Lido's Excelsior Hotel] and it worked well.
The fire hasn't been the festival's only challenge. There was also the detention and deportation of Palestinian director Said Dagha on the way to El Gouna to pitch at CineGouna. This in turn led guest of honour Palestinian actor Mohammad Bakri to cancel his trip. Could the festival do more to secure safe passage into Egypt for Palestinian guests given this is not the first time this has happened?
We invited Mohammad and had all the permissions in place for him to come. But in 2018, Mohammad came to Egypt to work on a film. At the airport, he was treated very badly and deported. When he heard what had happened to Said he decided not to come. He didn't want to take the risk of it happening to him again. I cannot blame him. We've communicated a lot via SMS and calls. We had secured everything as a festival but we couldn't give any guarantees.
Could you set up some sort of special service to meet and greet Palestinian El Gouna guests in future editions to facilitate their passage through security and passport control?
This isn't something we can influence as a festival. It's completely beyond our control.
Another unexpected event has been the local backlash against Cannes Critics' Week-winning film and El Gouna competition title Feathers by Egyptian filmmaker Omar El Zohairy after a group of veteran actors walked out of its screening saying it presented a bad image of Egypt. How has the festival handled this?
We've come under a lot of pressure from many different parties and we dealt with it in the same way any international film festival would have done. We've stood behind our decision to programme this film and voiced our full support for the work and the director.
In other signs of support, Darren Aronofsky gave the only interview of his entire stay to Omar, no one else. Their 30-minute interview [will be posted] to social media. Director Mohammed Diab also made a statement in support of Omar and Feathers at the premiere of his film Amira, referring to him as the next Youssef Chahine.
Another unexpected event has been the resignation of artistic director Amir Ramses in the final days of the festival. What happened?
I don't want to comment on that. You will have to speak to Amir.
In spite of these unexpected events, the festival appears to have gone very well from a public point of view. What's your personal verdict on this year's edition?
This has been our best programme to date. There were seven key titles from the Arab world waiting for a regional launch and we showed five of them: Amira, Casablanca Beats, Costa Brava, Lebanon, Feathers and The Sea Ahead. The other two that have gone elsewhere are Memory Box, by Joana Hadjithomas and Khalil Joreige, and the beautiful Jordanian film The Alleys.
For the international titles, there were 100 films in Cannes, 20 of which were in competition. Within that, there were 11 that really stood out and we got eight of them. People have come to understand that El Gouna has a good programme and is a good place to premiere films in the region. It's getting easier for us to get films sent to us in advance. We were very proactive in terms of watching as much of the Cannes and Venice programmes ahead of these festivals taking place.
Do you have an idea of the box office this year?
We're still waiting for the final figures but what I can tell you is that we had full screenings for Feathers and Amira, with 1,500 spectators each; our cinema concert drew 1,200 people; and 1,000 people attended the Darren Aronofsky masterclass. It's the first time in the history of Arab film festivals, in the 55 years from the Carthage Film Festival [the Arab world's oldest running film festival] to now, that so many people have attended a masterclass.
El Gouna also has a big following on TV throughout the region. How many people watch the coverage of its red carpet events and other aspects of the programme?
Around 40 million in total, including people living in the MENA region and the diaspora in the US and Europe. My mother in Baghdad, my sister in Germany, my aunt in Denmark, for example, were all watching the coverage. The opening and closing are watched across the Arab world. There are 600 journalists here and hundreds of hours of coverage about the festival play on TV channels throughout the region.
There have been suggestions that the El Gouna Film Festival was created by billionaire Egyptian businessman Naguib Sawiris mainly to promote his brother Samih Sawiris's El Gouna Red Sea beach resort. What do you say to that?
Some people try to frame it like this but it's not the case. Naguib Sawiris founded the festival because he loves cinema and has strong connections with the cinema community. The festival has a lot of goals but the main goal is culture and cinema. This is very obvious when you look at the programme. It's 80% art films. We wouldn't be putting first films like Feathers or documentaries like Back Home and Captains Of Zaatari up on the big screen or running the CineGouna platform if our main remit was to do promotion.
The other thing to note is that with this edition the Sawiris family covered 40% of the cost of the festival, the other 60% came from others. Of course, the festival also benefits El Gouna and why not. The hotels and apartments are full, restaurants are busy, the tuk-tuks and taxis are getting business but there's nothing wrong with that. All the big festivals around the world have the same positive effect on the places where they take place.
On that basis, do you think the festival has a long-term future?
From the beginning, people have said we would do one or two editions and stop but it's been proven not to be the case. You can never say never when you look at the fact that Dubai was shut down at its peak but right now that's not our expectation.
Will you be back next year?
When Naguib Sawiris invited me to join the festival team, he said as long as this festival exists you are with us. I put a lot of energy and thought into the initial concept, drawing on what I had learned in other roles. I've then put body and soul into creating the festival and its subsequent editions and I think it's appreciated. I love the festival. It's my baby.