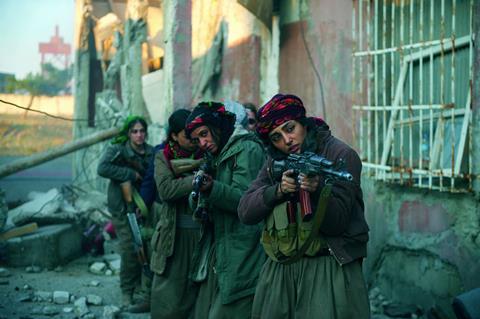 French sales company Elle Driver has unveiled a raft of sales on Eva Husson's women's war movie Girls Of The Sun following its buzzy premiere in Competition in Cannes over the weekend.
The Palme d'Or contender has sold to France (Wild Bunch), Germany (Wild Bunch), Latin America (California), Italy (BIM), Benelux (Cinéart), Japan (Comstock Group), Middle East (Jaguar Film), and China (Time-In-Portrait Entertainment).
Deals also closed in: Spain (Vertigo Films), Scandinavia (AB Svensk), Switzerland (Praesens), South Korea (The Coup Corporation), former Yugoslavia (Dexin Film), Australia (Vendetta Films), Portugal (Midas Filmes), Czech Republic and Slovakia (Film Europe Media Company). Altitude Film Distribution previously acquired UK rights.
Girls Of The Son centres on a female battalion of Kurds fighting on the frontline against ISIS. Golshifteh Farahani stars as commander Bahar and Emmanuelle Bercot plays war correspondent Mathilde.
"The film prompted an extraordinary response from the audience with an astonishingly long standing ovation from the public… it has also generated debate, especially between conservative critics versus the audience," Elle Driver chief Adeline Fontan Tessaur said.