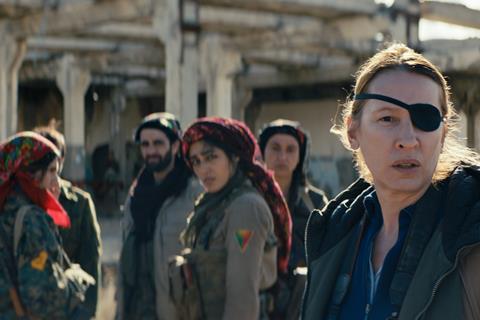 Altitude Film Distribution has secured UK and Ireland rights to Eva Husson's Cannes competition title Girls Of The Sun from sales agent Elle Driver.
The Kurdistan-set drama stars Golshifteh Farahani as the commander of an all-female battalion who is preparing to liberate her hometown from the hands of extremists. Cannes best actress winner Emmanuelle Bercot co-stars as a French journalist covering the attack.
Girls Of The Sun receives its world premiere at Cannes today (12 May).
Husson's previous film was 2015 debut Bang Gang, which premiered in the Toronto platform section.
Upcoming Altitude titles include Kevin Macdonald's Cannes Midnight Screening premiere Whitney, the recently announced Liam Gallagher: As It Was, Chaplin - from the team behind Notes On Blindness - and Calm With Horses starring Barry Keoghan.
The director was inspired to make the film after reading about the exploits of real-life Kurdish women in Syria and Iraq who were taken hostage by Islamic State fighters.
The deal was negotiated by Altitude's Ellie Gibbons and Adeline Fontan Tessaur at Elle Driver.
Gibbons said: "This film has come at a crucial time and pays homage to the Yazidi survivors of this ongoing atrocity. Eva's distinctive approach to the subject matter, the all-female cast and female led crew's passion and dedication are the key factors that attracted us to the project and we're looking forward to bringing the film to UK and Irish audiences."