Ciro Guerra's drama about indigenous tribes in the Colombian Amazon took home seven awards from eight nominations.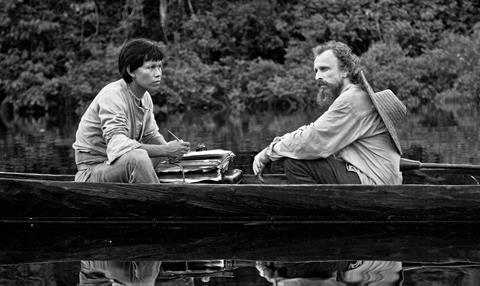 Ciro Guerra's Embrace Of The Serpent dominated last night's Platino Awards - the Ibero-American equivalent of the Oscars - winning seven prizes from eight nominations including best film and best director.
The third annual celebration of the Ibero-American film industry was held at the Punta del Leste Convention Center, Uruguay.
Scroll down for full list of winners
Aside from Embrace Of The Serpent, which addresses the issue of vanished indigenous civilisations and was Oscar-nominated this year, none of the other nominated films received more than one award.
The best actor prize went to The Clan's Guillermo Francella for his portrayal of the patriarch of an Argentinian family who kidnapped and killed its neighbours in the 1980s.
Dolores Fonzi took home the best actress award for Santiago Mitre's Paulina, for her performance of a teacher raped by a gang that includes some of her own students.
Pablo Larrain's The Club won the best screenplay prize for the story of four retired priests who are interrogated about sins from their past.
Elsewhere, actor Ricardo Darin, which is considered the face of Argentinian film, collected the lifetime achievement award, a prize given to Antonio Banderas and Sonia Braga in the previous two editions.
Unexpected prize
In addition to the 13 category winners, there was an unexpected prize, dubbed 'Cinema and Education', handed out to Anna Muylaert's The Second Mother (Brazil).
Surprisingly, the film didn't receive any nominations at the Platinos - despite having been awarded in Sundance (Special Jury Prize) and Berlin (Panorama audience award and CICAE award) in 2015.
The Platino awards were created to recognise the cinema of Spanish and Portuguese-speaking Latin American and European countries. A total of 826 films were entered this year. Each year, movies are submitted by film academies (or equivalent associations) of the respective countries.
The awards were created by FIPCA, the Ibero-American Federation of Film and Audiovisual Producers, and EGEDA, the management association of audiovisual producers' rights founded in Spain.
Full list of winners
Best film: Embrace Of The Serpent (Colombia/Venezuela/Argentina)
Best director: Ciro Guerra, from Embrace Of The Serpent
Best actor: Guillermo Francella, from The Clan (Argentina/Spain)
Best actress: Dolores Fonzi, from Paulina (Argentina/Brazil)
Best screenplay: The Club (Chile)
Best cinematography: Embrace Of The Serpent
Best original music: Embrace Of The Serpent
Best sound: Embrace Of The Serpent
Best editing: Embrace Of The Serpent
Best art direction: Embrace Of The Serpent
Best animation film: Atrapa La Bandera (Spain)
Best documentary: El Boton De Nacar (Chile/Spain/France)
Best first film: Ixcanul (Guatemala/France)