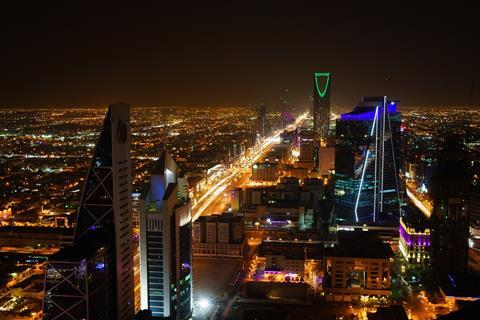 UPDATE: Endeavor is understood to be looking into pulling out of a deal whereby the Saudi government would invest $400m in the Hollywood-based company.
The move comes in light of international outrage over the disappearance of Saudi dissident journalist Jamal Khashoggi, the Washington Post columnist who has not been seen since he entered the Saudi consulate in Istanbul on October 2.
Endeavor had no comment when approached by Screen. The development was first reported in THR. Earlier in the day, Endeavor CEO Ari Emanuel told an audience at MIPCOM in Cannes that he was 'concerned' over the situation surrounding Khashoggi.
EARLIER REPORT: Ari Emanuel, CEO of entertainment, sports and fashion company Endeavor, told TV professionals at MIPCOM on Monday (15) that he is monitoring the situation around the disappearance of dissident Saudi journalist Jamal Khashoggi, who is rumoured to have been murdered by a Saudi state-backed hit squad.
Hollywood holding company Endeavor – which was established in October 2017 out of a portfolio of brands previously owned and managed by WME and IMG – sealed a $400m investment deal with the Public Investment Fund (PIF) of Saudi Arabia earlier this year. This deal is believed to have given the fund a 5-10% stake in the group.
Responding to a question during a keynote speech at the MIPCOM content market in Cannes on Monday, Emanuel said: "Here's what I'll say about it. I personally am really concerned about it. We're concerned about it. What I can say about it is that we're monitoring the situation and that's legally all I can say right now. It's very, very concerning, really concerning."
Khashoggi, who was a critic of Saudi Arabia's current leadership, was living in self-imposed exile in the US where he was a contributor to theWashington Post. He has not been seen since entering the Saudi consulate in Istanbul in Turkey on October 2 to pick up papers ahead of his imminent wedding to his Turkish fiancée.
Asked if he would reconsider the PIF investment in Endeavour, Emanuel said: "All I am permitted to say right now is… and look I am concerned, we're all concerned, it's upsetting… is that we are monitoring the situation. That is all I am able to say right now."
PIF's investment in Endeavor is part of Crown Prince Mohammed bin Salman's 2030 strategy to diversify his country's economy away from a dependency on oil.
The building of a leisure and entertainment sector is a key part of the plan announced in 2016 and there has been a flurry of developments over the past year aimed at putting the policy into action, including a lifting of the country's 35-year ban on cinema theatres last December.
A number of entertainment companies – particularly in the exhibition sector – have sealed deals with Saudi Arabia in recent months, including US cinema chain AMC. The exhibitor said in April AMC was aiming for up to 100 cinemas in Saudi Arabia by 2030 and was planning to open between 30 to 40 cinemas in 15 Saudi cities over the next five years.
There has been no comment from AMC regarding the potential fall-out if it is proven that Khashoggi's death was a Saudi state-backed killing.
A number of partners in other business sectors have already begun to distance themselves from Saudi Arabia.
Top UK entrepreneur and businessman Richard Branson said over the weekend he was halting talks for a $1bn Saudi investment in Virgin space projects as well as directorships in two tourism projects.
A number of A-list business leaders – including JPMorgan Chase CEO Jamie Dimon and Ford Motor Chairman Bill Ford – have also pulled out of an upcoming economic conference in the Saudi capital of Riyadh, which had been branded the "Davos of the desert".
It remains to be seen if this distance ultimately dents business deals with the Kingdom and whether the entertainment business will follow suit.