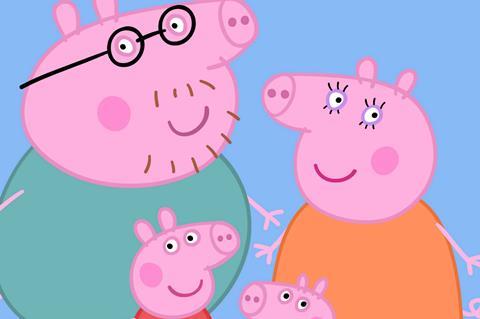 Entertainment One and Alibaba Pictures co-production, Peppa Celebrates Chinese New Year, has staked out a February 5, 2019 release date in mainland China.
Distributed by Alibaba Pictures, the full-length feature contains both live-action and new animated content, based on the Peppa Pig TV series created by Astley Baker Davies.
The release date coincides with the Chinese New Year holidays, a peak box office period in mainland China, which in 2019 runs February 4 (Chinese New Year's Eve) until February 10.
Developed specifically for young families celebrating the holiday, the film's storyline incorporates Chinese New Year traditions, such as dragon dancing and dumpling wrapping. The film will also introduce two new characters, the Panda twins.
Broadcast on state-owned CCTV and several streaming platforms, the Peppa Pig TV series has become a huge hit in China, with the character gaining unexpected subculture kudos among adult viewers, in addition to its target audience of pre-schoolers.
"There is a huge fan base for Peppa Pig in China, so we're thrilled with the prospect of bringing the brand's first ever theatrical release to cinemas in the region in early 2019," said eOne's Olivier Dumont, president, Family & Brands.
Alibaba Pictures president Zhang Wei said: "The Peppa Pig series emphasises the importance of family values, and that is something that will deeply resonate with Chinese audiences. We hope this family film will pave the way for further development of films for young audiences in China."