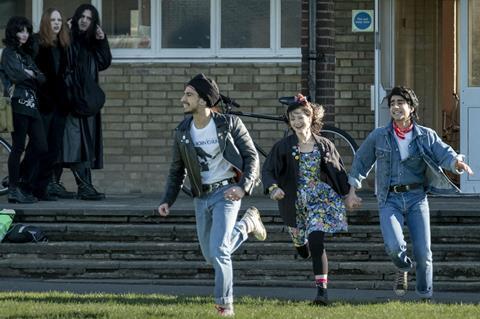 Entertainment One (eOne) has taken UK and Australia distribution rights to Gurinder Chadha's comedy-drama Blinded By The Light, starring Hayley Atwell, Rob Brydon, Kulvinder Ghir and newcomer Viveik Kalra.

The project chronicles the experiences of a British Muslim boy growing up in the UK in the 1980s who is impacted by the lyrics of Bruce Springsteen; it was developed by Chadha and journalist Sarfraz Manzoor from the latter's memoir Greetings from Bury Park, with a screenplay from Paul Mayeda Berges (Bend It Like Beckham).
eOne struck its deal with the film's producers. Cornerstone Films is now handling sales and will be introducing the film to buyers at Cannes. The project is currently shooting on location in the UK.
Kulvinder Ghir, Hayley Atwell, Rob Brydon, Sally Phillips and newcomers Viveik Kalra, Aaron Phagura and Nell Williams lead the cast.
Chadha is producing with Jane Barclay (Gosford Park), Levantine Films and Peter Touche of Ingenious Media. Executive producers are Hannah Leader, Paul Mayeda Berges and Tracy Nurse and Alice Dawson is a co-producer. Crew include cinematographer Ben Smithard, editor Justin Krish and production designer Nick Ellis.
The project is an Ingenious Media and Levantine Films presentation of a Bend It Films production and was developed with support from the BFI.
The film will feature the music of Bruce Springsteen, who Chadha and Manzoor met in 2010.
"I quickly pitched him the film we wanted to make from the book and to our excitement Bruce nodded and said, "Sounds good - talk to Jon [Landau, his manager]". We then spent several years developing a script we knew had to impress Springsteen and managers Jon Landau and Barbara Carr or there would be no film without his music and blessings," recalled Chadha.
"Growing up in eighties Luton as the working class son of Pakistani Muslim immigrants my world felt very small. In the music of Bruce Springsteen I found both hope and wisdom on how I could transcend my circumstances and make my dreams to be a writer come true," added Manzoor.