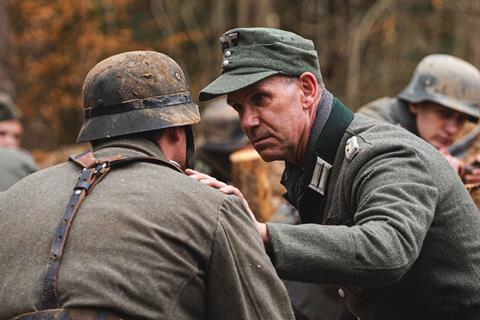 Dutch outfit DFW International has agreed a North American sale on Thomas Nauw and Dennis Bots' war drama Betrayal with Epic Pictures.
The film has its market premiere at the European Film Market this week.
It tells the dark story of a German-Dutch Nazi officer who, after his wife and daughter are killed in a bombing, makes a drastic decision. Transferred to the Netherlands, he helps a Dutch farming family take people into hiding.
The cast is headed by Peter Nillesen, Dirk Gunther Mohr Dennis van Ooyen and Berit van de Wouw.
"We see that Second World War films continue to speak to the audience's imagination," said Charlotte Henskens, director of international sales at DFW International.
DFW has also sealed further deals for Betrayal with Mediasoft Films (South Korea) and Lighthouse Home Entertainment (German-speaking Europe).
Betrayal is produced by ZOD Film as a co-production with On Air Media. It is scripted by Leroy Ter Braak, Rob Camies and Thomas Nauw from a story by Nillesen.
"The creator of the film has a similar family history and although the film is not based on his story, it is inspired by true stories of many families in that region," said Henskens.
Betrayal will be released in the Netherlands this April through Dutch FilmWorks.
During the EFM, DFW International, the sales arm of Dutch FilmWorks, is also screening its drama A French Summer and its dark new Dutch romantic drama, Broken, based on the book When I Saw You by Isa Hoes, starring Egbert-Jan Weeber, Matthijs van de Sande Bakhuyzen and Noortje Herlaar.