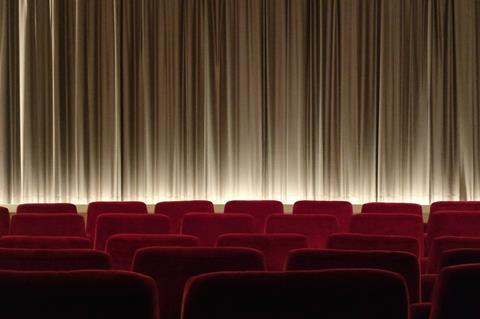 European cinemas lost an estimated €19bn in revenues as a result of the Covid-19 pandemic in the years 2020 and 2021, according to International Union of Cinemas (UNIC) figures.
In its 2022 annual report, the European cinema trade associations body weighed up the impact of enforced cinema closures during European lockdowns and curfews. It calculated that, compared to 2019, box office results for the past two years were down €6.2bn in 2020 and another €5.1bn in 2021.
UNIC estimates that a further €4.5bn was forfeited in 2020 and €3bn in 2021 as a result of lost in-theatre sales, private events as well as B2B and screen advertising.
UNIC also noted that cinema operators had significant fixed costs to cover during closures, including rent, energy bills and temporary leave compensation, amounting to hundreds of millions of Euros per week.
Signs of recovery
UNIC's latest annual report showed that cinemagoing recovered in Europe in 2021 compared to 2020. Admissions were up by an estimated 36.4% year on year, with 589 million visits across the region.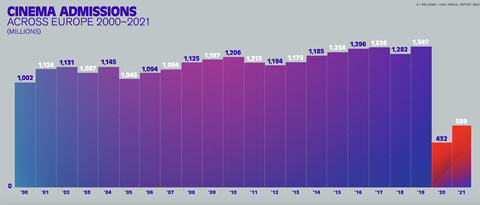 Box office reached close to €3.7bn, an increase of 40.8% on the previous year. This was despite most screens being shut for the first six months of 2021 and operating for the remainder with limited occupancy and additional restrictions.
On average, cinemas across the UNIC region were fully closed for at least 100 days in 2021, rising to 120 days at EU level.
However, the impact of the Covid-19 pandemic on the European cinema industry remains significant. Compared to the pre-pandemic year of 2019, 2021 admissions lagged 56.3% behind, while box office was down by an estimated 57.3%.
At EU level, including the UK, admissions were 60.4% and box office 59.1% behind pre-pandemic levels.
There were also significantly fewer titles available to cinemas throughout the year. There were approximately 270 new cinema releases in 2021 on average across Europe, compared to 250 in 2020 and 480 in 2019.
Major release territories such as the UK saw 503 new releases in 2021, compared to 896 in 2019. In France new releases dropped over the same period from 746 to 455, and in Germany they fell 606 to 429.
Local releases
UNIC cited the importance of local European releases during the pandemic, given the postponement of major releases from US studios. 130 US titles were released on average across European markets in 2019, but that figure was down to 95 in 2021.
Countries leading the way in terms of national films' market share included France (40.6%), the Czech Republic (38.3%), Serbia (37%), Denmark (37%) and Norway (28.1%).
UNIC President Phil Clapp said: "While the numbers shown here for 2021 are very positive, it remains the case that these remain challenging times for the European cinema sector. As a consequence, all industry stakeholders and policy-makers need to continue to pursue efforts aimed at ensuring the survival of local cinemas, whatever their size and location."
Clapp added: "2022 will be a pivotal year for the industry. UNIC members are confident that the cinema industry will come back stronger from this crisis, and that, as before, the audience will continue to enjoy films together, on the big screen."
UNIC represents cinema operators and their national associations across 39 European territories, including the UK.