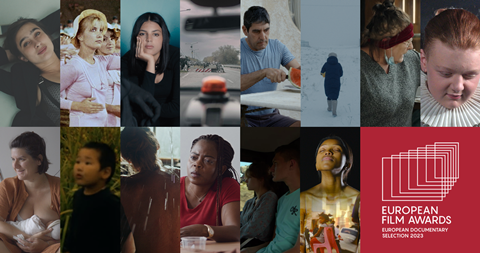 The 14 feature documentaries in the running for the 2023 European Film Awards (EFAs) have been announced.
Scroll down for full list of titles
They include Nicolas Philibert's On The Adamant, which won the Golden Bear at the Berlinale in February. The film follows the daily lives of patients and caregivers at a central Paris psychiatric centre, which has a unique structure floating in the Seine river. French filmmaker Philibert previously won the best European documentary prize at the EFAs in 2002 with To Be And To Have (Être Et Avoir).
Also selected is Kaouther Ben Hania's Four Daughters, following a Tunisian family in which two of the four daughters have disappeared. The film premiered in Competition at Cannes, where it won the L'Oeil d'Or Award for best documentary.
Among the selection are titles that picked up the top prizes at leading documentary festivals. Danish director Lea Glob's Apolonia, Apolonia won best film at International Documentary Festival Amsterdam (IDFA); Maciek Hamela's Ukrainian documentary In The Rearview won the main grand jury award at Sheffield DocFest; and Motherland by Hanna Badziaka, Alexander Mihalkovich scooped the main Dox:Award prize at CPH:DOX 2023.
Further award-winning titles include Paul B. Preciado's Orlando, My Political Biography, which picked up the Teddy Award for best documentary at the Berlinale; Vlad Petri's Between Revolutions, winner of the Fipresci prize at the Berlinale; and Tunde Skovran's Who I Am Not, which secured a hat-trick of trophies at Thessaloniki Documentary Film Festival.
Anna Hints' Smoke Sauna Sisterhood premiered at Sundance, winning the best directing award in world cinema – documentary, and is Estonia's submission for the international feature film Oscar.
The selection covers 16 European countries and the shortlist of nominations will be announced on November 7, based on votes by the European Film Academy's 4,600 members.
Last year's winner of the documentary prize was Mariupolis 2 by murdered Lithuanian filmmaker Mantas Kvedaravicius.
Eligible for the EFAs are European documentaries which, among other criteria, had their first official screening between June 1, 2022 and May 31, 2023 and have a European director. Additional documentary titles premiering at summer festivals may be added and announced in September.
The first wave of features selected for this year's awards were revealed earlier this month.
The 36th European Film Awards will be presented at a ceremony on December 9 in Berlin.
EFAs 2023 Documentary Selection
Apolonia, Apolonia (Den-Pol)
Dir. Lea Glob
Between Revolutions (Rom-Cro)
Dir. Vlad Petri
Four Daughters (Fr-Tun-Ger-Saudi)
Dir. Kaouther Ben Hania
In The Rearview (Pol-Fr-Ukr)
Dir. Maciek Hamela
Light Falls Vertical (Sp-Ger-It-Neth)
Dir. Efthymia Zymvragaki
Motherland (Swe-Ukr-Nor)
Dir. Hanna Badziaka, Alexander Mihalkovich
On The Adamant (Fr-Jap)
Dir. Nicolas Philibert
Orlando, My Political Biography (Fr)
Dir. Paul B. Preciado
Our Body (Fr)
Dir. Claire Simon
Paradise (Fr-Switz)
Dir. Alexander Abaturov
Smoke Sauna Sisterhood (Est-Fr-Ice)
Dir. Anna Hints
The Hearing (Switz)
Dir. Lisa Gerig
We Will Not Fade Away (Ukr-Fr-Pol)
Dir. Alisa Kovalenko
Who I Am Not (Rom-Can-Ger)
Dir. Tunde Skovran