The young acting talent will be presented on the opening weekend of next year's Berlinale.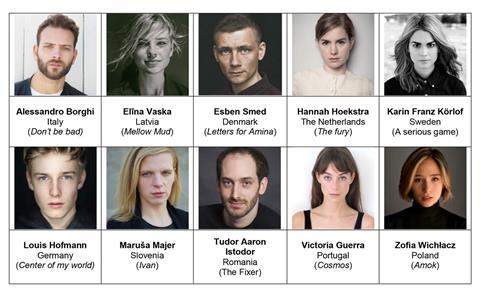 European Film Promotion (EFP) has revealed the 10 young actors that it has selected for the 2017 edition of European Shooting Stars.
The list includes Romanian actor Tudor Aaron Istodor, best known for his role as Edward II in the BBC production The Plantagenets and Portuguese-British actress Victoria Guerra who has received acclaim for her lead performance in Antonio-Pedro Vasconcelos' Impossible Love.
Italian actor Alessandro Borghi also features on the list, he is most known for his roles in Stefano Sollima's Suburra and Michael Vanucci's I Was A Dreamer.
Other nominess include Swedish actress Karin Franz Körlof, who is noted for her performance in Olaf Spaak's debut feature Garden Lane.
The selected group will be now be presented during the opening weekend of the 67th Berlin International Film Festival (February 9 – 19).
This year's Shooting Stars jury included: Lucinda Syson, casting director on Batman Begins and Kick-Ass, former Shooting Star Dorka Gryllus from Hungary, director Xavier Koller from Switzerland, Portuguese producer Pandora da Cunha Telles and Swedish film critic and writer Jan Lumholdt.
The jury made its selection from 26 nominees put forward by the EFP member organisations this year.
The full line-up:
Italy: Alessandro Borghi (Suburra)
Latvia: Elīna Vaska (Mellow Mud)
Denmark: Esben Smed (Letters for Amina)
The Netherlands: Hannah Hoekstra (The Fury)
Sweden: Karin Franz Körlof (Garden Lane)
Germany: Louis Hofmann (Centre of My World)
Slovenia: Maruša Majer (Schoolmates)
Romania: Tudor Aaron Istodor (Ashes and Blood)
Portugal: Victoria Guerra (Impossible Love)
Poland: Zofia Wichłacz (Afterimage)