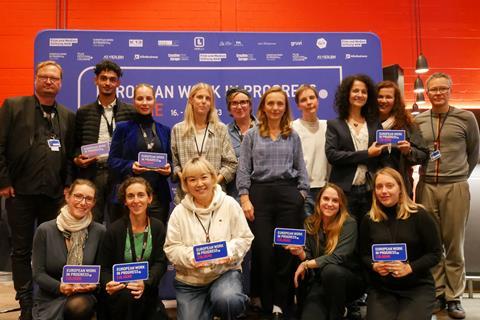 Projects from China, Ethiopia, Croatia and Germany were among the prize-winners at the sixth edition of European Work in Progress (EWIP) in Cologne (October 16-18).
A jury comprising Michael Stütz, head of the Berlinale's Panorama section, ZDF commissioning editor Holger Stern, Magnolia Pictures' head of international sales Lorina Lee Torres, Zurich Film Festival head of programme and industry Reta Guetg, and Chinese film producer Haixia "Hattie" Yu, awarded in-kind prizes worth a total of €61,500 at an awards ceremony on Tuesday evening (October 17).
Swiss-American director Jasmin Gordon's first feature-length narrative film The New Illusion received an award worth €10,000 in services from K13 Studios for Dolby Atmos mixing. The production by Zurich-based Maximage was presented in Cologne as part of TorinoFilmLab's TFL Coming Soon showcase
K13 Studios' award of €5,000 worth of dubbing services went to another debut feature, Halfdan Ullmann Tøndel's Armand, starring Renate Rensve from The Worst Person In The World. The Norwegian-Dutch-Swedish-German co-production is being produced by Andrea Berentsen Ottmar's Eye Eye Pictures alongside Holy Spider's One Two Films, with Charades onboard as the sales agent.
An award from Cologne-based MMC Studios worth €10,000 went to Aroma Dream, the second feature by Ma Xue, and produced by Paris-based Vincent Wang of House On Fire. MMC Studios' second award worth €5,000 went to Croatian sisters Ivona and Anita Juka of 4Film for their latest project Strangers In The Night.
Other in-kind prizes included LAVAlabs Moving Images Award offering €10,000 of visual effects for Pia Marais' Transamazonia; and Torino Film Lab's audience design award - consisting of two sessions with TFL experts to design a marketing and distribution strategy - to Chiara Fleischhacker's debut feature Vena, produced by Leipzig-based Neue Bioskop Film and will be released in German cinemas by Weltkino.
The award from UK media tech company Gruvi, worth €5,000 to be spent on marketing and technology, went to Berlin-based UK-Australian-German filmmaker Gabrielle Brady for her hybrid documentary The Wolves Always Come At Night set in the remote Bayanhongor region of Mongolia among a nomadic farming family. The Mongolian-Australian-German co-production has broadcasters SWR, ARTE and BBC Storyville onboard as partners.
One of the projects selected for this year's Focus on Africa, The Night Before Easter by Ethiopian writer-director Dagim Sisay, received the Way Film's award for subtitling services worth €4,000.
Berlin-based PR agency mm filmpresse will give €7,500 worth of international festival publicity work to Waterdrop by writer-director Robert Budina, whose debut Agon represented Albania at the Oscars in 2014.
EWIP's line-up of 32 works in progress included Match Factory Productions' first ever project as a majority producer, Türker Süer's debut feature Brothers; as well as Michael Kofler's Second Hand Land, a story about toxic masculinity set in the 1960s against the backdrop of the struggle for autonomy in South Tyrol; and Nigerian filmmaker Kayode Kasum's dramedy Adire which producer Victoria Ogar will be releasing theatrically in Nigeria through her company FilmOne Entertainment.
EWIP was followed again this year by the second edition of the International Distribution Summit (IDS) with keynote speakers including Mathieu Robinet of France's Tandem Films, Andrea Romero of Italian indie distribution outfit I Wonder Pictures, Hiroko Oda of Japanese producer-distributor Flag Pictures, Nigerian film critic Oris Aigbokhaevbolo, and Lukasz Siódmok of Polish production house Film RÓI.
Enrique Costa of Spanish producer-distributor Elastica Films is this year's recipient of the best international innovation distribution award which was presented at a ceremony last night (October 18).