Speakers will include Fathom Events, the company behind Woody Harrelson's live-broadcast feature Lost In London [pictured].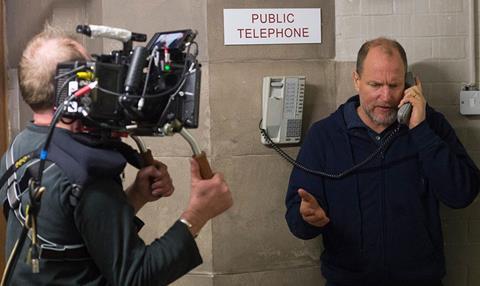 This year's Event Cinema Association Conference in London (Feb 3) will forefront topics ranging from cyber security and technology barriers to emerging applications of the medium.
Speakers will include Kymberli Frueh from Fathom Events, the distributor behind Woody Harrelson's recent one-take live feature film Lost In London, which filmed in the British capital last week and was simultaneously live broadcast in real time to cinemas in the UK and US.
Frueh will be giving a presentation on pushing the boundaries of the event cinema medium. She will also discuss the company's work around the Oliver Stone film Snowden, which featured a lie Q&A with Edward Snowden broadcast from Russia.
In three breakout sessions, attendees will be able to explore topics including the practicalities and legal concerns of setting up an event cinema screening, potential technology barriers, and cyber security.
Further speakers will include representative of CinEvents, SampoMedia, and research company HIS.
The event, now in its fourth iteration, is returning following a one-year hiatus after the dates were shifted from October to February, with the conference taking place at London's QE11 Centre.
The 2017 ECA awards will also be announced on the day. Nominees include Picturehouse, NT Live, and CinemaLive, the company behind Andre Rieu's record-breaking live-broadcast concert.