The action sequel proved the most buzzed about film on social networks in the UK.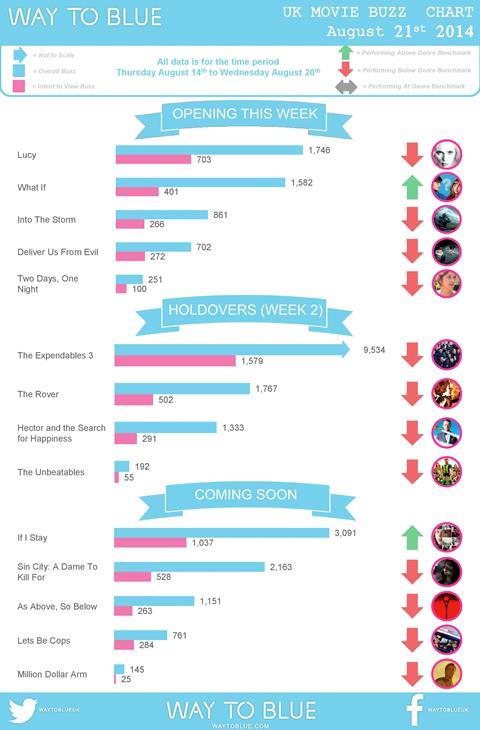 The Expendables 3 has proved the most buzzed about film on social networks after its first week on release in the UK, according to Way to Blue.
The action film, in which Sylvester Stallone leads an ensemble of action stars old and new, generated more than 9,500 comments from Aug 14-20, with 17% of those expressing intent to view.
Luc Besson's Lucy, starring Scarlett Johansson, managed more than 1,700 comments in the run up to this weekend's release, with a robust 40% expressing intent to view.
Daniel Radcliffe romcom What If also picked up nearly 1,600 comments ahead of its release, with 25% suggesting they would follow up with a visit to the cinema.
But it two future releases beat them both.
If I Stay, a tearjerker starring Chloe Grace Moretz, will not be released in the UK until Aug 29 but managed nearly 3,100 comments, of which a third expressed intent to view.
Frank Miller's Sin City: A Dame To Kill For, which goes on release in London this weekend before going wide next week, drew nearly 2,200 comments with a quarter suggesting they wanted to see the sequel to Robert Rodriguez's graphic novel adaptation.