After being launched at last month's Berlin Film Festival, feature family animation 10 Lives has racked up the deals for UK-based GFM Animation, the sister company of sales agent GFM Films.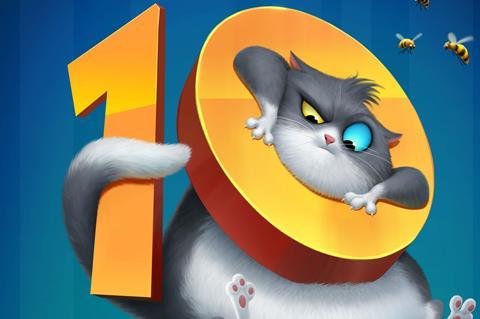 Territories sold so far are Top Films (CIS), Koch Media (Italy), Vertice Cine (Spain), Outsider (Portugal), Ster Kinekor (South Africa), Tanweer (Greece), New Guys (Israel), Blue Lantern Media (Vietnam), ECS (Middle East), Imagem Filmes (Latin America), Vertical Distribution (Eastern Europe) and ACME (Baltics).
The film is the second to be produced as part of a joint venture between Chinese animation outfit Original Force and GFM Animation. The first, Duck Duck Goose, will be distributed in China by Wanda Pictures and in the UK by Entertainment Film Distributors, with the rollout set to kick off on March 2, 2018.
10 Lives is produced by Penney Finkelman Cox (Shrek) and Adam Zhang, senior vice president of Original Force. The story follows a once scrawny shelter kitten that now leads a pampered life after being adopted. Everything changes when he loses his ninth life. In the afterlife, he escapes and cheats his way into another cycle of nine lives, but he doesn't realise that each of the nine lives will see him return as a different animal.
GFM's director of sales Edoardo Bussi commented: "We are very pleased with the success 10 Lives had during the recent European Film Market (EFM), which confirms strong interest from the market for high-end animation and unique concepts. With Original Force we share the common goal of delivering top quality theatrical entertainment for the entire family and we feel confident that 10 Lives will be a success with audiences around the world."
Adam Zhang added: "With world-class teams in both Culver City, California and Nanjing, China campuses, Original Force endeavours to deliver compelling story-telling powered by the most cost-efficient high-quality pipelines. We are very grateful for the outstanding roadshow of 10 Lives that GFM has kicked off at the EFM. With a strong and dedicated partner, we believe our film will continue to gain momentum in the global marketplace."
Earlier this week, Screen revealed that GFM Animation has hired Sean Feeney as its new head of production.