NOVEMBER 28 UPDATE: Warner Bros' Harry Potter spin-off lands top in China and Japan with $41m and $15.6m, respectively.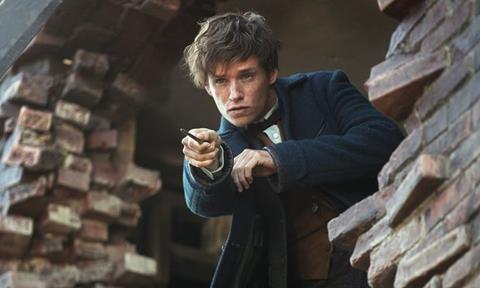 WARNER BROS PICTURES INTERNATIONAL
UPDATE: Boosted by superb openings in China and Japan, Fantastic Beasts And Where To Find Them conjured up $132.5m from its 67 markets for $318.6m to date overseas.
The Harry Potter spin-off landed top spot in China with $41m after only three days of release and also arrived at number one in Japan with a five-day bow of $15.6m from 967 screens.
Fantastic Beasts remained at the top of the chart in all of its key holdover markets, including the UK ($11m for $37.6m), South Korea ($7.4m for $24.6m), Germany ($5.8m for $18.4m) and France ($5.9m for $17.3m).
From 1,048 IMAX screens worldwide, the film grossed $14.3m for $35.6m so far. Overseas, it took $9.7m from 660 screens for $19.4m, led by its China debut of $5.1m from 347 screens, a record for the Harry Potter franchise.
The Accountant, Storks and Sully stand at $60.6m, $105.7m and $64.6m, respectively.
WALT DISNEY STUDIOS MOTION PICTURES INTERNATIONAL
To go with its bumper $81.1m North American debut, Moana recorded a $16.3m overseas bow from its 12 territories.
The animation's sole key opening this weekend was in China where it charted second behind Fantastic Beasts with a three-day gross of $12.3m, marking the second-highest Disney Animation Studios' three-day opening in the market behind Zootopia.
It sails into a number of territories next weekend, including France, Mexico, Russia, Spain and the UK.
Doctor Strange has now crossed the $600m mark globally to stand at $616m, surpassing Iron Man's $585m result.
Overseas, it added $9.8m from its 53 territories for $410.9m and in its sole new opening in Argentina, it enjoyed a chart-topping $1m bow ahead of a national holiday tomorrow (November 28).
PARAMOUNT PICTURES INTERNATIONAL
Allied started its international rollout in 23 markets with an estimated $9.4m overseas debut, 8% ahead of Bridge Of Spies in the same markets.
Robert Zemeckis' latest enjoyed its best opening in France with $2.8m from 542 sites, followed by the UK with $1.6m from 501 and Spain with $1.3m from 430. All three openings saw it chart second.
It opens in China and Russia next weekend, with Germany (December 22) and Australia (December 26) to come.
Led by a $1.3m debut in Mexico, Jack Reacher: Never Go Back shot to $6.1m from its 46 markets for $88.4m to date.
The action sequel also opened in Brazil ($880k from 344 sites), Venezuela ($1.5m from 51) and Panama ($508k from 80), ahead of its final release in South Korea next weekend.
FOX INTERNATIONAL
UPDATE: Opening in Thailand with $223k, Trolls danced to an extra $7.7m from its 71 markets for $156.4m overseas.
The weekend was led by strong holds in the UK ($1m, down 32%, for $27.4m) and Spain ($860k, down 23%, for $8.6m, ahead of the animation opening in Australia and New Zealand next weekend.
Keeping Up With The Joneses posted a $405k debut in Mexico and has now taken $13.3m internationally. The action comedy still has openings to come in Spain (December 9), Italy (February 8, 2017) and Germany (February 16, 2017).
ARRIVAL
Arrival grossed a further estimated $6.2m from its 34 markets for $30.9m to date.
Launching in seven new Sony markets, the critically acclaimed sci-fi took $4.4m from 29 markets for $16.2m, led by a preview-boosted $1.4m bow in Germany from 401 sites. It also landed in Brazil with $740k from 268 sites and added $760k in Spain for $2.3m to date.
From its five FilmNation Entertainment territories, Arrival added $1.76m for $14.7m so far. It has amassed $9m in the UK and is on track to become Denis Villeneuve's best-ever result in Australia.
CJ ENTERTAINMENT
Sports drama My Annoying Brother, featuring D.O. of K-pop group Exo, recorded an estimated $6.2m debut in South Korea, according to ComScore, seeing it chart second behind Fantastic Beasts.
At the AFM, the film sold to Hong Kong/Macau (Deltamac), Taiwan (Cai Chang), Philippines (Viva Communications), Mongolia (Bloomsbury) and the respective CJ Entertainment branches for North America, Vietnam, Indonesia and China.
WILD BUNCH
Feng Xiaogang's satire I Am Not Madame Bovary added an estimated $5.9m from its five territories for $46m after two weeks in play, according to ComScore.
The film premiered at Toronto and stars Fan Bingbing as a woman determined to restore her honour after a fake divorce and charges of sexual misdeeds.
DISTRIBUTION WORKSHOP
From its six territories, Ringo Lam's Sky On Fire posted an overseas debut of $3.8m, according to ComScore.
Hong Kong-based Distribution Workshop picked up the international rights to the film in October.
TOHO
Detective Conan: The Darkest Nightmare, the 20th feature in the animated series, recorded an estimated $3.3m debut in China, lifting its overseas haul to $66.4m, according to ComScore.
UNIVERSAL PICTURES INTERNATIONAL
UPDATE: 28 Panfilovtsev opened in second in Russia behind Fantastic Beasts with $2.8m from its 1,110 sites, marking the third biggest opening weekend ever for a local war drama.
Landing in three more territories, Nocturnal Animals grossed $1m from its 14 territories for $6.8m. It enjoyed a $600k second weekend in Italy for a local tally of $1.6m, and opens in Finland, Latvia, Netherlands, Spain, Singapore, Taiwan and Thailand next weekend.
Blumhouse and Platinum Dunes' Ouija: Origin Of Evil opened in its final market of Belgium with a $160k debut and has now scared up $45.7m overseas, while La Reina De Espana posted a $396k bow in Spain from its 305 sites.
SONY PICTURES RELEASING INTERNATIONAL
Currently playing in 55 markets, Inferno uncovered another $1.7m for $181.7m to date overseas.
THE GIRL ON THE TRAIN
UPDATE: DreamWorks Pictures' The Girl On The Train travelled to $1.7m from its 27 territories for $92.7m to date through Universal and Mister Smith Entertainment.
From its 14 Universal territories, the adaptation added $1m for $14.5m after opening in its final market of Peru with $113k from 37 sites.
LIONSGATE
Deepwater Horizon drilled up a further $1.2m from its 20 markets for $56m to date, following soft debuts in Germany ($508k from 361 sites) and Spain ($254k from 259).
Ahead of its final release in Japan, Blair Witch has amassed $24.2m.