Chinese director helps launch a year of business, creative and cultural collaborations between the UK and China.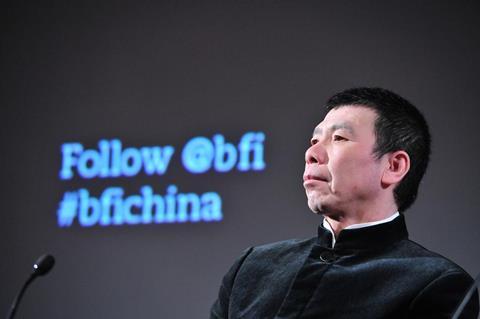 The British Film Institute (BFI) has hosted one of China's biggest directors, Feng Xiaogang, for a season of his films - part of a cultural and industry collaboration between the BFI and China that will take UK filmmakers to Beijing and Shanghai in a bid to forge alliances.
The BFI-China initiative is titled Electric Shadows, comprising a year-long programme of business, trade, creative and cultural collaborations between the UK and China.
Helping to launch the programme, Feng took part in a Q&A at the BFI Southbank, followed by a gala screening of his epic Back To 1942 - China's entry for this year's Oscars.
This is just one of a flurry of UK-Chinese film initiatives. A co-production treaty between the two countries has been agreed and is expected to be signed later this year.
Feng is helping British producer Duncan Kenworthy develop an English-language remake of 2004 feature A World Without Thieves and may direct it himself.
"It is mainly driven by Duncan. Of course, as a friend, I am willing to do anything that can assist Duncan with the developing of the project," said the director.
Alliances
British film companies have been busy making overtures toward Chinese partners. Last year, Pinewood Shepperton struck a joint venture agreement with Seven Stars to partner with the Chinese media group on a number of co-production, training and development initiatives.
Meanwhile, Arts Alliance Media recently announced a deal to provide software to Wanda Cinema Line, the world's largest cinema operator.
A delegation of around a dozen British producers will head to China in April.
Second largest cinema market
Speaking in London this month, leading figures in the British and Chinese industries reflected on their new collaboration - what is driving it and what both sides hope to achieve.
China is now the second largest cinema market in the world. It posted box office revenues of $3.6bn in 2013. China is opening an estimated 4,000 new cinemas every year.
BFI chief executive Amanda Nevill was part of UK Prime Minister David Cameron's trade delegation to China last December. This was her third trip to the region during 2013.
"We did a lot of really careful research because I wanted to identify the places where we should really spend our time and energy," Nevill told Screen.
"China is right up there with the US because of the size of the market that is opening. The issue, the value for us, is going to be export of our films to China and co-production - making movies together that can appeal both to Chinese and British audiences."
Nevill is quick to stress that "this isn't a quick, short term scenario." The BFI's job is "to say we need to go over there (to China) and horizon gazing. We are not the only industry that is recognizing China is a really important place to go."
The BFI, Nevill continues, is looking to do "the heavy lifting" in setting up new lines of communication between the UK film industry and its Chinese equivalent.
"It is all about building relationships so there can be trust."
Need for local partners
James Wang, president and co-founder of Huayi Brothers Media Group Corporation – one of the biggest entertainment companies in China and a regular backer of Feng Xiaogang's films - points out that international companies seeking to work in China will need to rely very heavily on local partners.
"China is a very unique market. It is very difficult for foreigners to understand how to deal with it or comprehend it," said Wang.
"The best way is to find a really good, legitimate Chinese distributor who will be able to make good decisions for you and will have the good relations to be able to persuade exhibitors to give you a higher percentage of screens."
Wang doesn't anticipate that the UK/China co-production treaty will help Chinese films get into the UK more easily. Most Chinese fare, he points out, is aimed primarily at local audiences and therefore doesn't travel easily.
Nor is Wang worried about added competition from foreign films in the Chinese marketplace.
"I don't think the importing of foreign films will do any damage to the market performance of Chinese-language films," he said. "A healthy market needs various styles of films for the audience. That is what the consumers are demanding."
Quotas
The quota for foreign features in China currently stands at around 30-40 titles a year. Even so, Wang believes that in the many new cities being built in China, the audiences will continue to prefer local fare.
Huayi Brothers distributes international films in the Chinese market. Among its forthcoming releases are Fury starring Brad Pitt, and Mordecai, starring Johnny Depp. The company releases its own titles as in North America through China Lion Film Distribution, in which it is a shareholder.
The company does not intend to establish a UK or European distribution arm, according to Wang. "Of course, as the content provider, we really want to reach more audiences in Europe and the UK," he added.
"In the UK, if there is a local distribution company that is good at what it does and has the interest and enthusiasm to market our films, we would definitely want to continue the discussion."
Economic driver, cultural exchange
For the British in their negotiations with China, film is seen as a "huge economic driver" in its own right but also as an instrument of soft power, diplomacy and cultural exchange.
"We are working very, very closely with the great campaign at No. 10, UKTI, the British Council…this is not the BFI doing its own little thing," Nevill explained.
Nevill credits Culture Minister Maria Miller with including cultural bodies such as the BFI and National Theatre on the December trade mission to China.
"It was an opportunity not just to promote British film as an important economic driver to the Chinese but it was a really helpful and useful opportunity to position film as the economic driver it is among our own (British) peer group," said Nevill.
Nevill and her team were hugely encouraged by the enthusiasm of local audiences (many of them young) when Alfred Hitchcock's silent films were screened at the Shanghai Film Festival last June.
"It made me realise that we have so much in common as nations," said Nevill. "We both have very deep histories and a great sense of history in our DNA. We are both nations that have a love of our histories and a huge love of storytelling."
By taking the Hitchcock films to China, the British delegation eased the way for serious discussions about the co-production treaty, which may be signed as soon as April.
Censorship, piracy
Subjects as piracy, human rights and censorship are acknowledged by Nevill as the difficulties of working with China.
"You don't negotiate with your friends because you don't need to," Nevill stated. "Censorship, let's call it for what it is, is not a Chinese issue. If you release a film, you can bet your bottom dollar it will be censored in one way or another in every territory around the world including the UK.
"Of course, there are countries around the world where that issue of censorship is more pronounced than others. It is definitely more pronounced in China."
As for piracy, Nevill argued that as soon as "you start to make your own content and own it, you suddenly start to understand the value of it and you suddenly start to realise you don't want people nicking it."
In China, she observed, there are more and more "huge, vertically integrated companies" with a vested interest in protecting their content.
Nevill acknowledged the hurdles the British will have to overcome to get their films into the Chinese market, "but on the other hand, it is such a huge market that if we could just get a bit of that market, that could be quite revolutionary."
Feng: Hugh Grant fan
UK cinema may not be well known in China but Feng Xiaogang acknowledged his friendship for producer Duncan Kenworthy - and his enthusiasm for Hugh Grant romcoms. "My favourite is Four Weddings And A Funeral," he revealed.
The hugely popular director, often called "the Spielberg of China," made some pointed observations last year about how Chinese filmmakers are hampered in their domestic marketplace by their own censors.
"As a Chinese director, to tell the stories you want to tell and to be creative is already difficult," he said, adding that foreign directors releasing films in China don't face the same restrictions.
"When they are being creative, they can come up with ten choices and it is their own decision which one they want to go with. With Chinese directors, out of the ten, they only get five they are able to pick."
If Chinese films are being asked to compete head-to-head with big Hollywood movies, Feng's message was clear - "it should be a fair game".