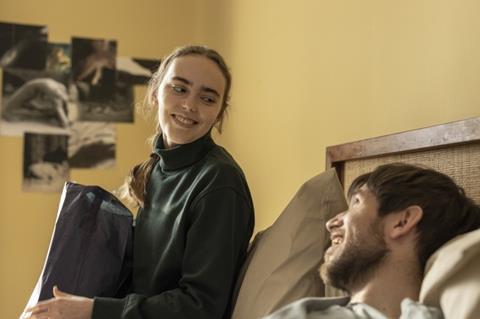 A total of 18 Spanish productions have been selected for the 70th San Sebastian Film Festival, running from September 16-24, including Fernando Franco's The Rite Of Spring (La Consagración De La Primavera).
This is Franco's third feature, following the Silver Shell for best actress received by Marian Álvarez for 2013's The Wound (La Herida) and special screening title Dying (Morir) in 2017.
The Rite Of Spring (La Consagración De La Primavera) follows the meeting between an 18-year-old girl, played by Valèria Sorolla, and a young boy with cerebral palsy, played by Telmo Irureta.
Scroll down for the full Spanish line-up
Also competing for the Golden Shell is Suro, the feature debut from San Sebastian native Mikel Gurrea, whose short Heltzear premiered last year at Venice. Vicky Luengo and Pol López play a couple who move to the countryside as they prepare to have their first child. It is the first project from San Sebastian's development lab, Ikusmira Berriak, to compete for the Golden Shell.
La Maternal is the second title from Pilar Palomero after winning the Goya for best film, best new director and best original screenplay for her debut feature, Schoolgirls (Las Niñas), which also played in the Made in Spain strand at San Sebastian in 2020, after premiering in Berlin. La Maternal follows a 14-year-old teenager, played by Carla Quílez, in her process of learning how to become a mother.
An official selection special screening, The Yellow Ceiling (El Sostre Groc) is a documentary directed by Isabel Coixet about the sexual abuse committed in Lleida's Theatre School between 2001 and 2008. San Sebastian was the setting for Coixet's directorial debut, Demasiado Viejo Para Morir Joven, which played in New Directors in 1988.
The Movistar Plus+ series Offworld (Apagón) will participate out of competition, with five episodes directed by Rodrigo Sorogoyen, Raúl Arévalo, Isa Campo, Alberto Rodríguez and Isaki Lacuesta. The series kicks off with a solar storm that causes a global blackout.
As previously announced, Alberto Rodríguez will open the festival with his feature Prison 77 (Modelo 77), also playing out of competition.
San Sebastian 2022 line-up – official selection
Wild Flowers (Girasoles Silvestres) (Sp)
Dir. Jaime Rosales
The Rite Of Spring (La Consagración De La Primavera) (Sp)
Dir. Fernando Franco
La Maternal (Sp)
Dir. Pilar Palomero
Suro (Sp)
Dir. Mikel Gurrea
Official selection – not in competition
Offworld (Apagón) (Sp) – TV series
Dirs. Rodrigo Sorogoyen, Raúl Arévalo, Isa Campo, Alberto Rodríguez, Isaki lacuesta
Prison 77 (Modelo 77) (Sp) – opening night film
Dir. Alberto Rodríguez
Official selection – special screenings
The Yellow Ceiling (El Sostre Groc) (Sp)
Dir. Isabel Coixet
New Directors
To Books And Women I Sing (A Los Libros y a Las Mujeres Canto) (Sp)
Dir. Maria Elorza
Zabaltegi-Tabakalera
Piggy (Cerdita) (Sp-Fr)
Dir. Carlota Pereda
Chords (Cuerdas) (Sp) – short film
Dir. Estibaliz Urresola Solaguren
The Water (El Agua) (Switz-Fr-Sp)
Dir. Elena López Riera
Third Notebook (Hirugarren Koadernoa) (Sp) – short film
Dir. Lur Olaizola
Perlak
God's Crooked Lines (Los Renglones Torcidos De Dios) (Sp) – closing night film
Dir. Oriol Paulo
The Beasts (As Bestas) (Sp-Fr)
Dir. Rodrigo Sorogoyen
One Year, One Night (Un Año, Una Noche) (Sp-Fr)
Dir. Isaki Lacuesta
Velodrome
Black Is Beltza II: Ainhoa (Sp)
Dir. Fermin Muguruza
Rainbow (Sp)
Dir. Paco León
Feeling It (Sintiéndolo Mucho) (Sp-Mex)
Dir. Fernando León De Aranoa