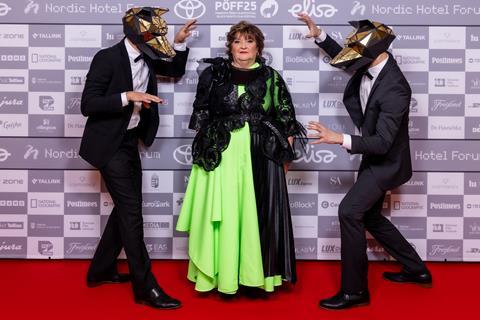 The disruption of events over the past two years might have been the reset Tallinn Black Nights Film Festival (POFF) needed for its 25th edition.
"Over these past two weird years, we've realized that anything is possible if we put in the work," said POFF festival director Tiina Lokk. "I would never have imagined that PÖFF would have a web cinema or that we would equip our guests with personal air purifiers around their necks."
To overcome the challenges posed by Covid, the festival provided all industry guests with a Covid-19 antibody nose spray; and all those speaking at public events, including post-screening Q&As and industry panels, with "Respirays" - a neck brace that sits on the shoulders and cleanses the air around the face via UV technology.
The festival wrapped with in-person screenings on Sunday (November 28), having held its in-person closing ceremony the previous night, where Andreas Kleinert's German drama Dear Thomas picked up the Grand Prix for best film.
Exact number of screenings and guests across the 17-day run are still to be confirmed but Lokk admitted that returning audience numbers to a pre-pandemic state is a ongoing battle.
"Bringing audiences back to the cinema halls is not just a challenge for PÖFF – it's a problem for festivals and cinemas around Europe and the world," said Lokk. "Still, attendances this year were in line with our expectations and plans."
On-site increase
Uniting much of the industry offering under one banner, the newly launched Discovery Campus allowed for collaboration between different strands of the film process. A sign of new life breathed into the event was the increase in on-site industry guests: 559, up from just 125 last year, and returning towards pre-pandemic levels of 650 in 2019. While an 11pm curfew imposed by the Estonian government weeks before the festival opened put paid to late-night parties, guests were still able to gather at bars and social events in the evenings.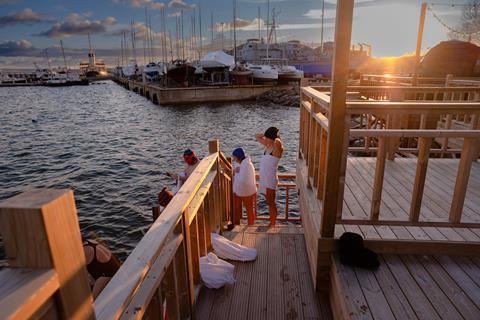 And what could be more rejuvenating than a morning swim in the near-zero Celsius Baltic Sea? Established last year as a way for the small number of on-site guests to connect when all social premises were closed, the daily winter dip was back with vigour this year – so much so that the bus taking brave guests to the harbour at 9am each morning was over-subscribed on several occasions. Among those to take the plunge were several competition filmmakers, plus Tallinn industry head Marge Liiske, BFI Film Fund director Mia Bays and Neil Peplow, BFI director of international, external affairs.
Bays and Peplow were part of a significant UK delegation to attend the festival, with it being the first major international event for Bays in her new role. The group also included 17 UK filmmakers, supported in their trip with £20,000 of National Lottery funding.
Four of those – producers Pippa Cross of CrossDay Productions, Ben Pullen of Sentinel Entertainment, Matthew James Wilkinson of Stigma Films and Sophie Venner of Z56film – participated in a panel about collaboration between the UK and Estonia. Further representatives included Patrick Fischer, co-founder of UK-based financier Creativity Capital, who took part in a discussion on sales and financing with Charades founder Yohann Comte.
The festival played 13 features produced or co-produced in the UK, of which three were world premieres. A challenge for future editions is to entice more first screenings of UK films, according to programmer Malaika Bova, who is responsible for UK and Irish films at PÖFF.
"The aim at Tallinn is to get films that can offer a world, international or European premiere," said Bova. "By November, most of the UK films will have had releases at other major festivals." UK titles she had been tracking but which ended up elsewhere included Harry Wootliff's True Things, which debuted in Horizons at Venice in September.
"There is a huge number of interesting films that would really benefit from coming to Tallinn," added Bova. "It's an A-list [by FIAPF classification] festival, it has resonance all over Europe. It's a good way to keep interest with European audiences, sales agents and distributors."
Guests hail "vibrant year"
The festival was able to entice a significant number of international filmmakers to the Estonian capital for the 25th edition. US writer-director Sophie Lane Curtis attended the world premiere of her debut feature On Our Way in the Rebels With A Cause section, and praised the festival's care in assigning personal hosts to all the filmmakers. "It added a special touch and made the experience feel very supportive," said Curtis. "It can be overwhelming, especially for first-time filmmakers, and to have someone from the festival you can really count on to navigate you through the process is so helpful."
Siena Oberman, producer on Curtis' film through her US company Artemis Pictures, benefitted from being on the ground in Tallinn. "I was pleasantly surprised to meet so many passionate and actively working film professionals from around the world," said Oberman. "The market was just as active as the festival. Given that most markets including AFM have been mostly digital, it was refreshing to see so many different sales companies, financiers, producers and directors meeting in person."
"Our perception is that Tallinn curates a specific group of people, so it's really quality over quantity," added Curtis.
Justin Lerner attended PÖFF for the second time, with his US-Guatemala-Mexico co-production Cadejo Blanco in the Current Waves section. "I've noticed that festival programmers from this part of Europe all come [to Tallinn]," said Lerner. "So for a smaller film that needs to sell territories based on a festival life, the pedigree of Tallinn being a newer class A festival brings the chance to have it seen and reviewed." Lerner noted he had met three programmers for separate festivals who had discovered his film through its Tallinn laurels and were now viewing it for their events.
Local filmmakers also voiced their approval, such as Tallinn native Leeni Linna, who premiered her short A Wish Upon A Satellite at the festival and has a feature in early development. "It was the most vibrant year yet," said Linna. "I've been able to talk to some very talented filmmakers and forge valuable connections for my feature. Co-production possibilities have never been as exciting as they are now."
Lokk has been there since the beginning with Tallinn, having launched the festival in 1997, and is already raring to go for a 2022 edition. "Black Nights is 25. I feel the same age in my head."