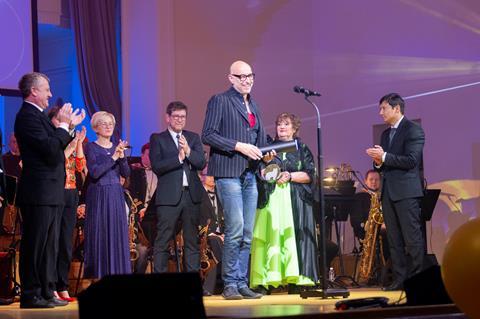 Andreas Kleinert's German drama Dear Thomas has been awarded the Grand Prix at the 2021 Black Nights Film Festival, held in the Estonian capital of Tallinn.
The black-and-white historical biopic follows the struggles of East German author and filmmaker Thomas Brasch, played by Albrecht Schuch who was also named best actor at Black Nights' closing ceremony on Saturday evening (November 27).
Scroll down for full list of winners
It marks the latest feature of prolific Germany filmmaker Kleinert, known for titles such as Leb Whol, Joseph; Lost Landscape; and Head Under Water, which screened at Locarno, San Sebastian and Venice respectively. His drama Paths In The Nights opened Cannes Directors' Fortnight in 1999 and feature Barriere screened at the Berlinale in 2010.
Dear Thomas, which premiered at Munich International Film Festival in July, is produced by Zeitsprung Pictures and sold by The Match Factory.
Kleinert was in Tallinn to accept the honour, which includes a grant of €20,000 to be shared with producers Till Derenbach and Michael Souvignier.
The international jury, led by EFA chairman Mike Downey, praised the film for its "masterly execution of the biopic form" and "for throwing an essential light on one of the seminal figures of German letters".
Dear Thomas marks the third consecutive film shot in black and white to win the top prize at Tallinn, following Ivaylo Hristov's Bulgarian drama Fear in 2020 and Anshul Chauhan's Japanese feature Kontora in 2019.
'The Wedding Day' wins two
Polish filmmaker Wojciech Smarzowski won best director and €5,000 for The Wedding Day, which mixes the stories of a wartime tragedy in a Polish village with that of a contemporary wedding to spotlight modern day corruption and xenophobia. Smarzowski also won the best screenplay award.
Further prizes saw the best cinematography award presented to Emre Tanyildiz for Turkish drug dealer drama The List Of Those Who Love Me, directed by Emre Erdoğdu.
The best actress award went to 11-year-old Russian Sofia Krugova for her portrayal of a daughter caught between comically ultra-violent mother and grandmother in Kirill Sokolov's No Looking Back.
Best original score prize went to Finland's Esa-Pekka Salonen for his score for The Wait while Hungary's Anna Nyitrai picked up the best production design award for dystopian drama Perpetuity.
The 25th Black Nights Film Festival ran from November 12-28.
Tallinn Black Nights Film Festival Winners 2021
Official Selection Competition
Grand Prix for Best Film: Dear Thomas (Ger)
Best Director: Wojciech Smarzowski, The Wedding Day (Pol)
Best Cinematography: Emre Tanyildiz, The List Of Those Who Love Me (Turk)
Best Script: Wojciech Smarzowski, The Wedding Day (Pol)
Best Actress: Sofia Krugova, No Looking Back (Rus)
Best Actor: Albrecht Schuch, Dear Thomas (Ger)
Best Original Score: Esa-Pekka Salonen, The Wait (Fin)
Best Production Design: Anna Nyitrai, Perpetuity (Hun)
First Feature Competition
Best First Feature: Other Cannibals, dir. Francesco Sossai (Ger)
Special Jury Prize: Immersion, dir. Nicolas Postiglione (Chile)
Special Jury Prize: Her Way, dir. Cécile Ducrocq (Fr)
Baltic Competition
Best Feature: Runner, dir. Andrius Blaževičius (Lith)
Rebels With A Cause Competition
Best Feature: The Moths, dir. Piotr Stasik (Pol)
Additional Awards
FIPRESCI Prize: Other People, dir. Aleksandra Terpinska (Pol)
Ecumenical Award: Mukagali, dir. Bolat Kalymbetov (Kaz)
Lifetime Achievement Award: Carlos Saura (Sp)
Lifetime Achievement Award: Elle Kull (Est)
DDA Spotlight Award: Liesl Tommy (S Afr/US) for Respect
DDA Spotlight Award: Sebastian Meise (Ger) for Great Freedom
PÖFF Shorts nomination for the EFA awards: Steakhouse, dir. Spela Cadez (Slov)
Just Film Awards
Grand Prix: Playground, dir. Laura Wandel (Fr)
European Children's Film Association Award: My Dad Is A Sausage, dir. Anouk Fortunier (Bel-Neth)